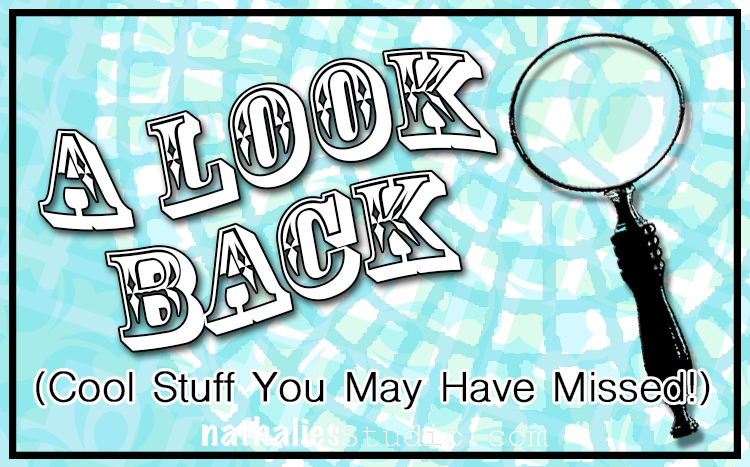 A Look Back – let's get into the spirit of the season and recap some of my favorite holiday posts from years past. If you're looking for creative and crafty ideas for holiday decorating, cards, and such, this is a handy list.
A Look Back is a blog series to show you some projects and posts that you may have missed – sometimes going WAY back in the archive. I think it will be fun to revisit a few ideas that we haven't seen for a while. I'm excited to see how a little look back might inspire something new in the future :)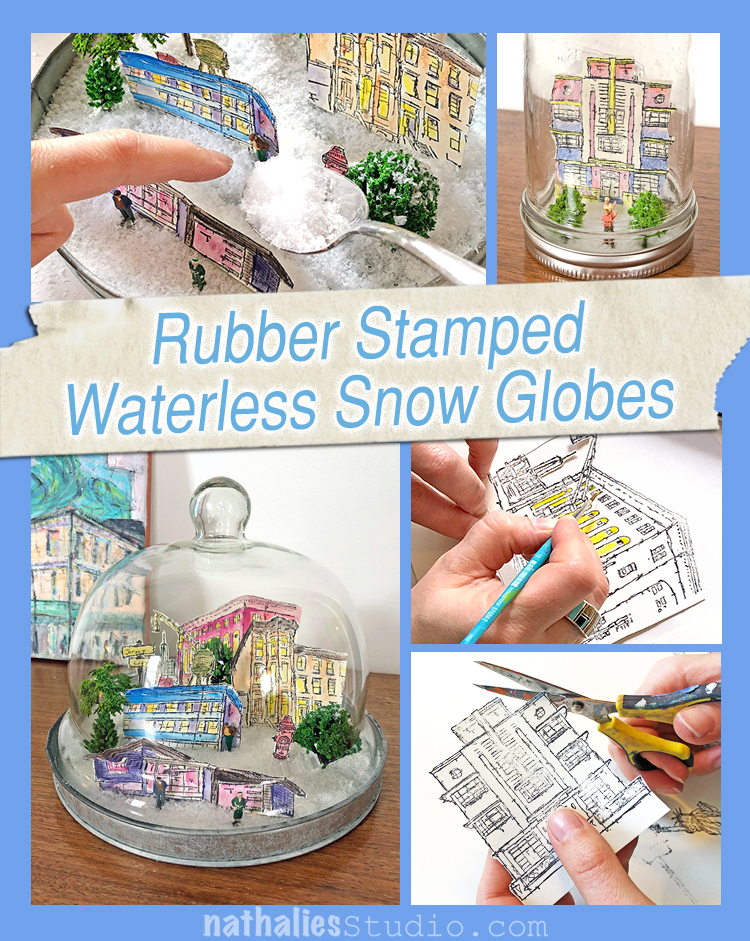 Hands down this was one of my favorite play dates ever! These rubber stamped, waterless snow globes were so fun to make and I still love displaying them each year around the holidays. We really got creative setting up the scenes with my Stroll Around the Block and Stroll Through the Hood stamps, along with some quirky miniature figures and trees. Love creating your own miniature world? This is for you!!! Here's a link to the post.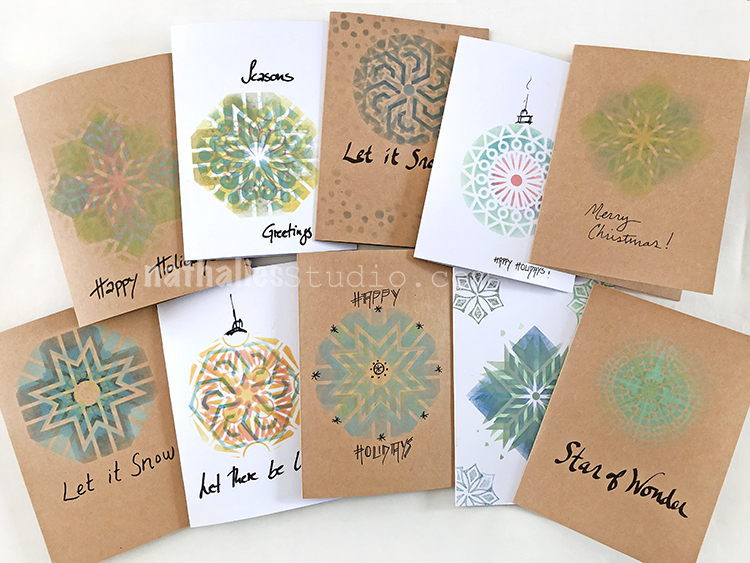 Another winner was a card making play date we did by layering my stencils with Distress Oxide inks. So satisfying to see how different patterns worked together to create snowflake-like designs. Each one was unique, each one was beautiful. Here is the post where we show you our step by step method.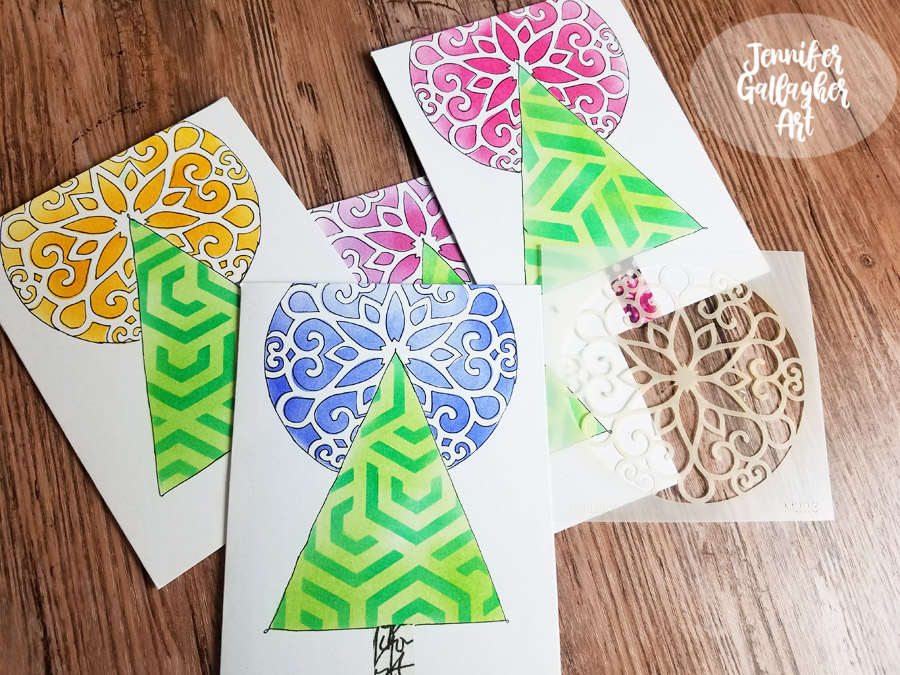 Remember these fresh looking tree cards from Creative Squad alum Jennifer Gallagher? She created trees using my Kassel and Flower Maze stencils, washi tape for the trunks, and then set them aglow with my Park Blvd stencil. I love the simple, modern look of these cards and you could really churn out a lot of variations in no time with her stencil and masking technique. Check it out.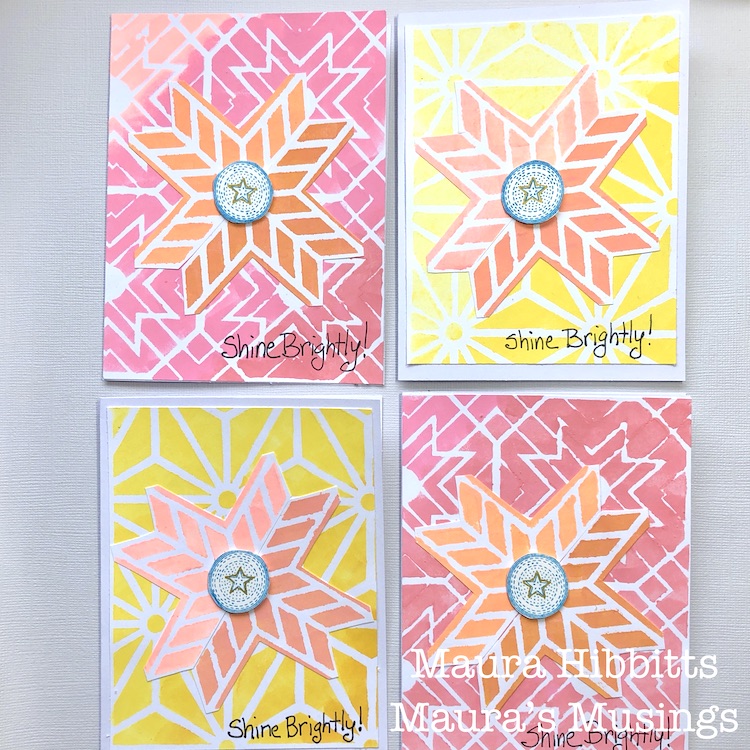 Looking for something a little different for holiday cards? Creative Squad member Maura Hibbitts shared this card project with us last year and they still catch my eye. I love her color choices and how well they work with my Star Struck, Toledo, and Santiago 4×4 stencils. And using my Small Circle Jumble rubber stamps for the center is such a nice detail. Give it a try: here is Maura's post.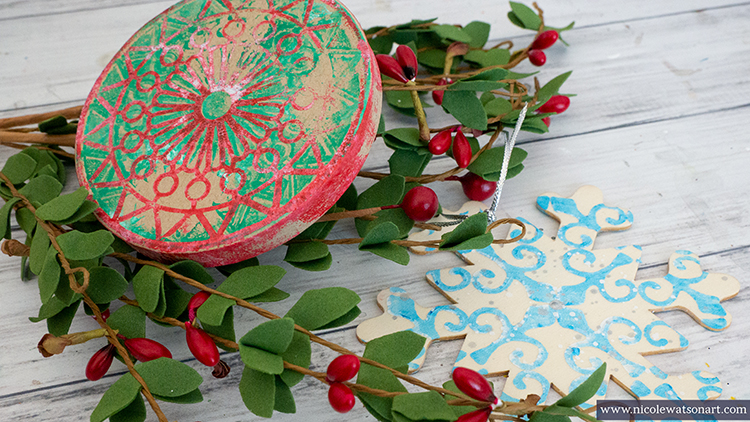 Let's not forget the ornaments! These festive examples from Creative Squad alum Nicole Watson utilize some simple blank ornaments, acrylic paint, a gelli plate, my Valley Road stencil and my Antique Tile foam stamp. Their rustic style makes me want to cozy up with my hubby and trim a tree. Here is how to make them.
I hope you enjoyed this look back on some seasonal holiday projects using stamps and stencils and will maybe make a few of your own too. Remember that right now we have our big annual Holiday Sale in the shop so it's a nice time to pick up a few of the stamps or stencils that you see in the above post for 25% off – just use the coupon code HOHOHO25 when you check out. The sale runs through November 21, 2021. Here is a link to the shop.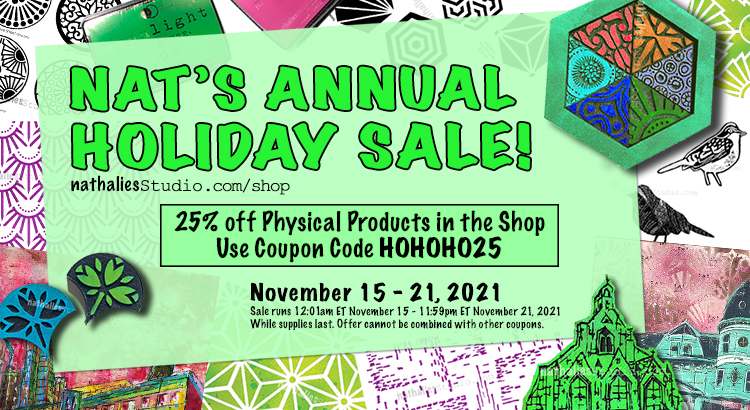 Here are some of the supplies we used: