Happy New Year to all of you!!!
I am so excited to start this New Year with lots of fun things. Here is one of my biggest secret the last couple months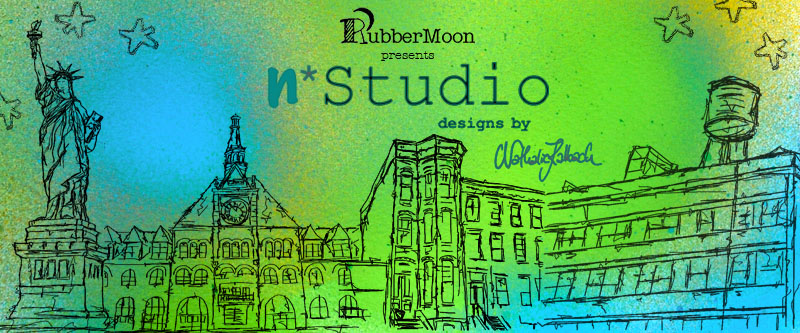 RubberMoon is a wonderful company in the USA owned by the amazing Kae Pea. RubberMoon creates hand crafted, red rubber stamps. I am so over the moon that we teamed up and here are the four sets of stamps I designed and RubberMoon made, which are available as cling stamp sets, single wood mounted stamps and single cling stamps: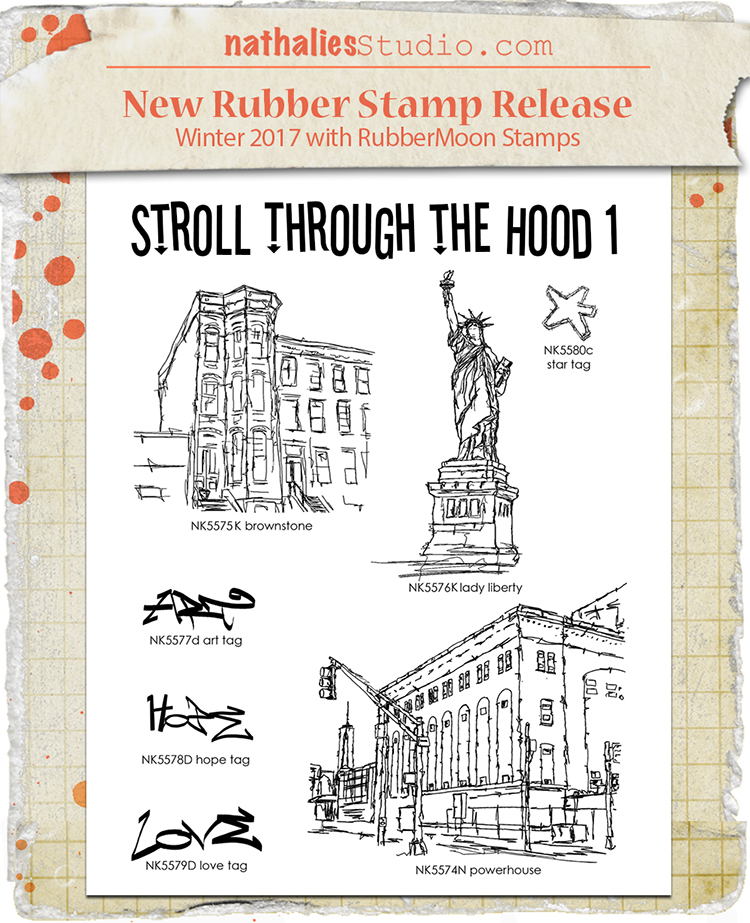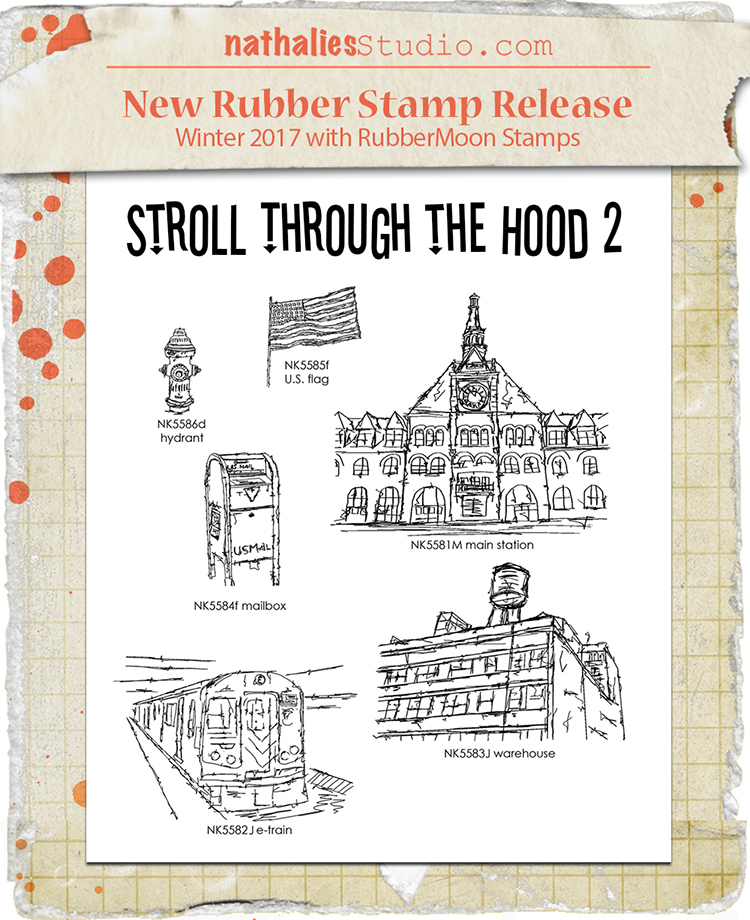 The Stroll Through the Hood stamps are inspired by places and objects in my neighborhood of Jersey City, as well as by my blog series of the same name. I gather inspiration as I sketch and photograph on my strolls, and I am attracted to the historic architecture, forgotten landmarks, and the street art that I pass along the way. These original hand sketched stamp designs are reminiscent of things you might find in towns and cities across the US.
The stamps come in two sets – and as separate cling stamps as well.
here are some samples created with the Stroll Through the Hood stamps: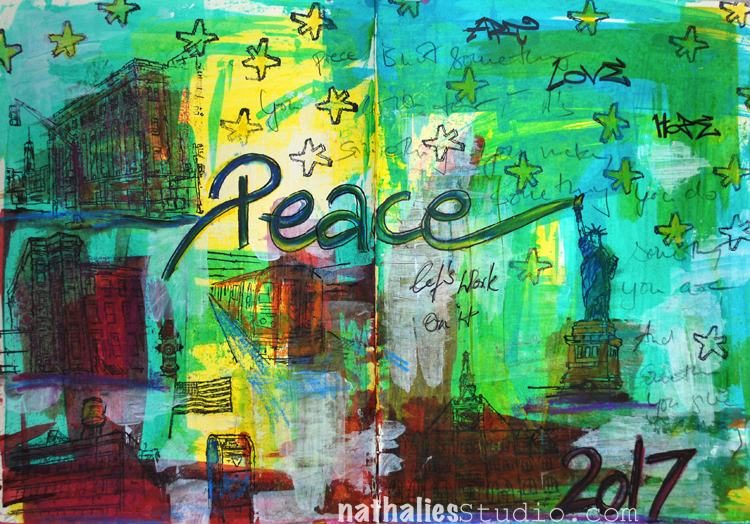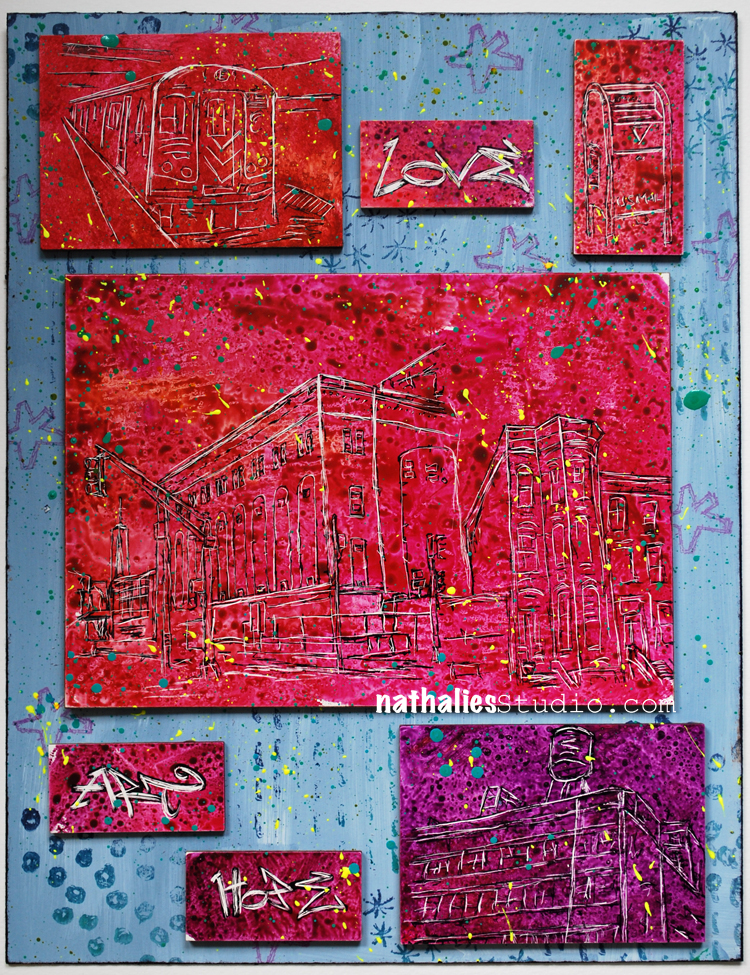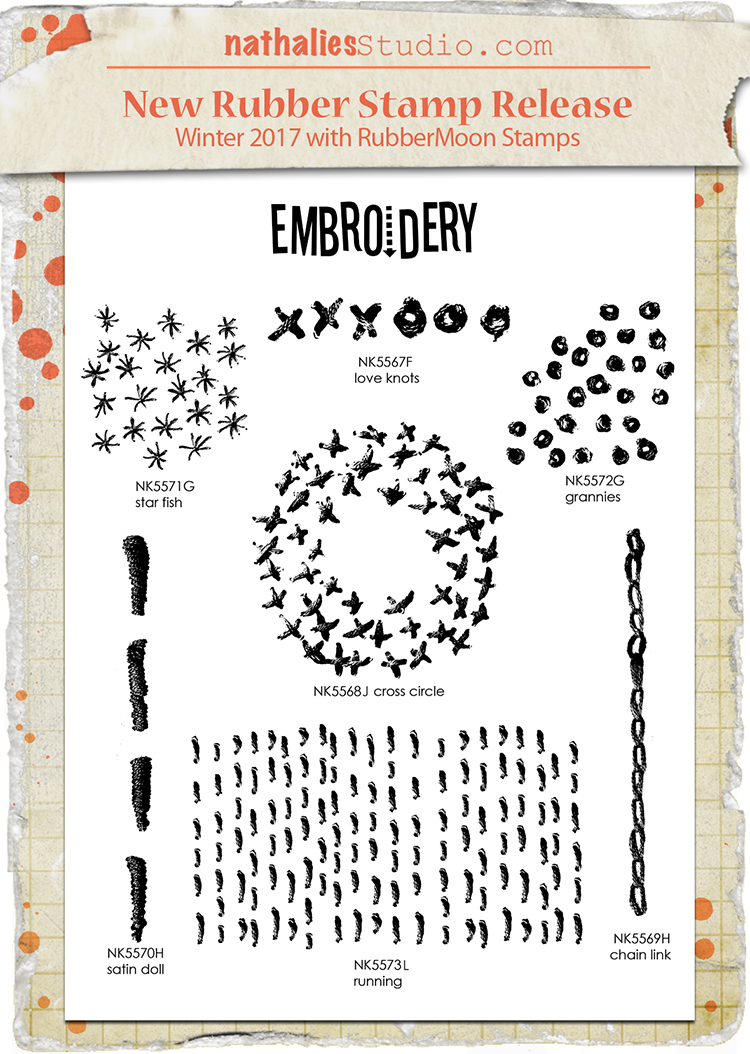 The Embroidery series of stamps are inspired by the art and design of the needle crafts.  I was always attracted to the combination of mixed media and fiber arts, and have recently begun some projects that focus heavily on embroidery and stitching as the end goal. In addition to adding faux elements of embroidery to projects, these stamps can also be used as pattern making tools and guides on which to stitch upon.
Here are some samples with the Embroidery Set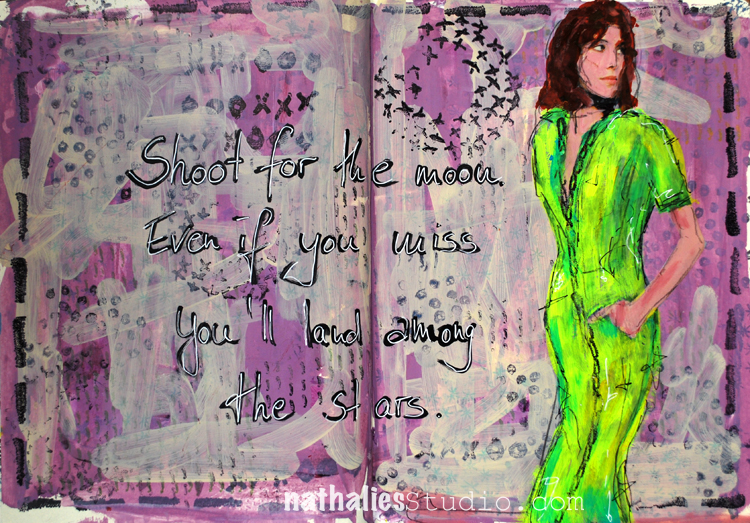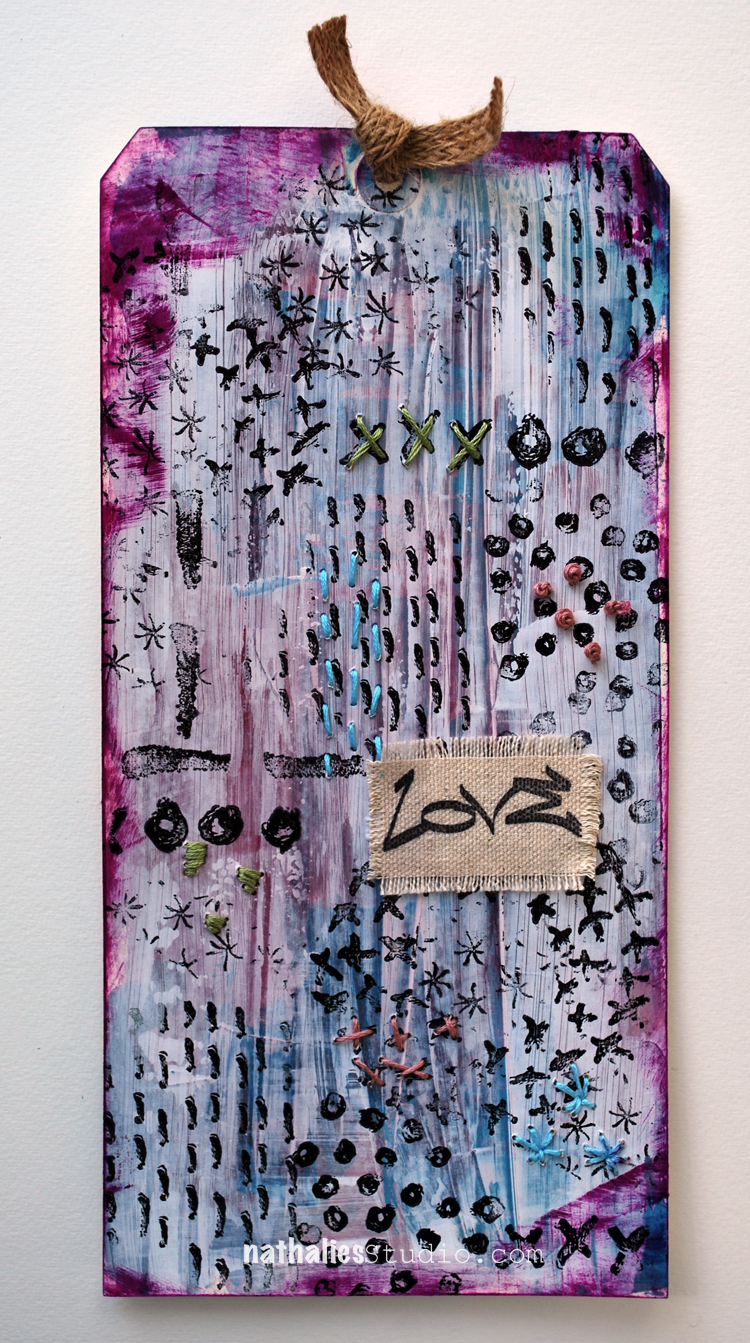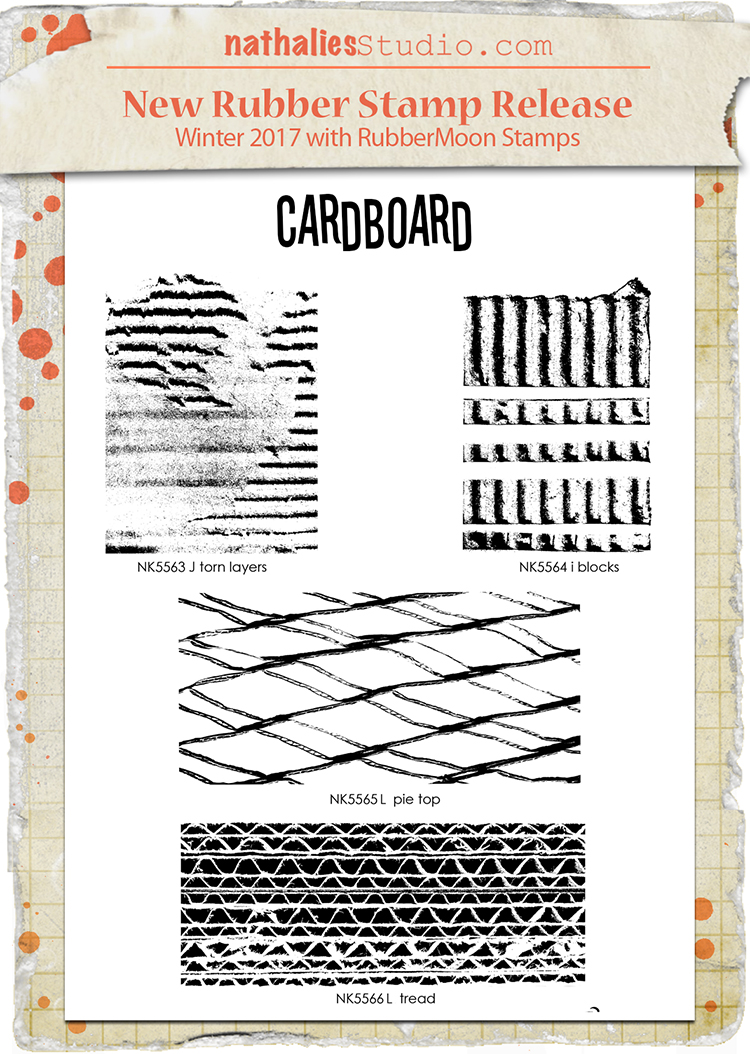 The Cardboard series of stamps are inspired by the interesting patterns and surfaces I observed while playing with cardboard packaging materials in my studio.  These stamps capture my love for found objects, repurposing materials, and that grungy edge I love to add in my work.
And a sample with the Cardboard set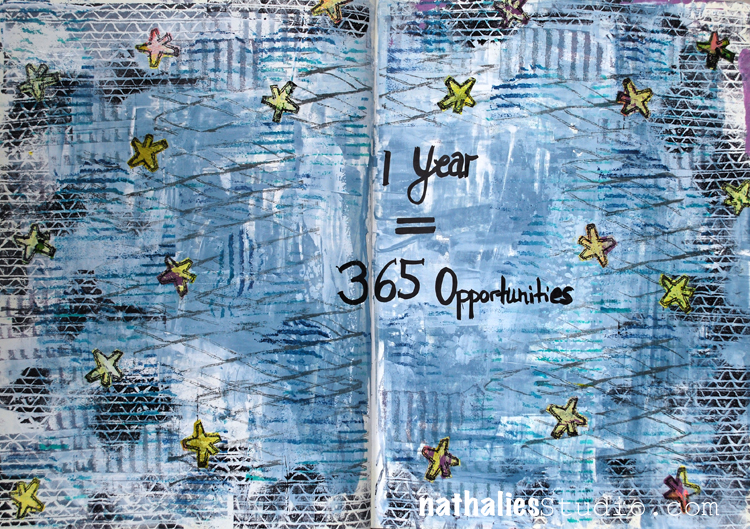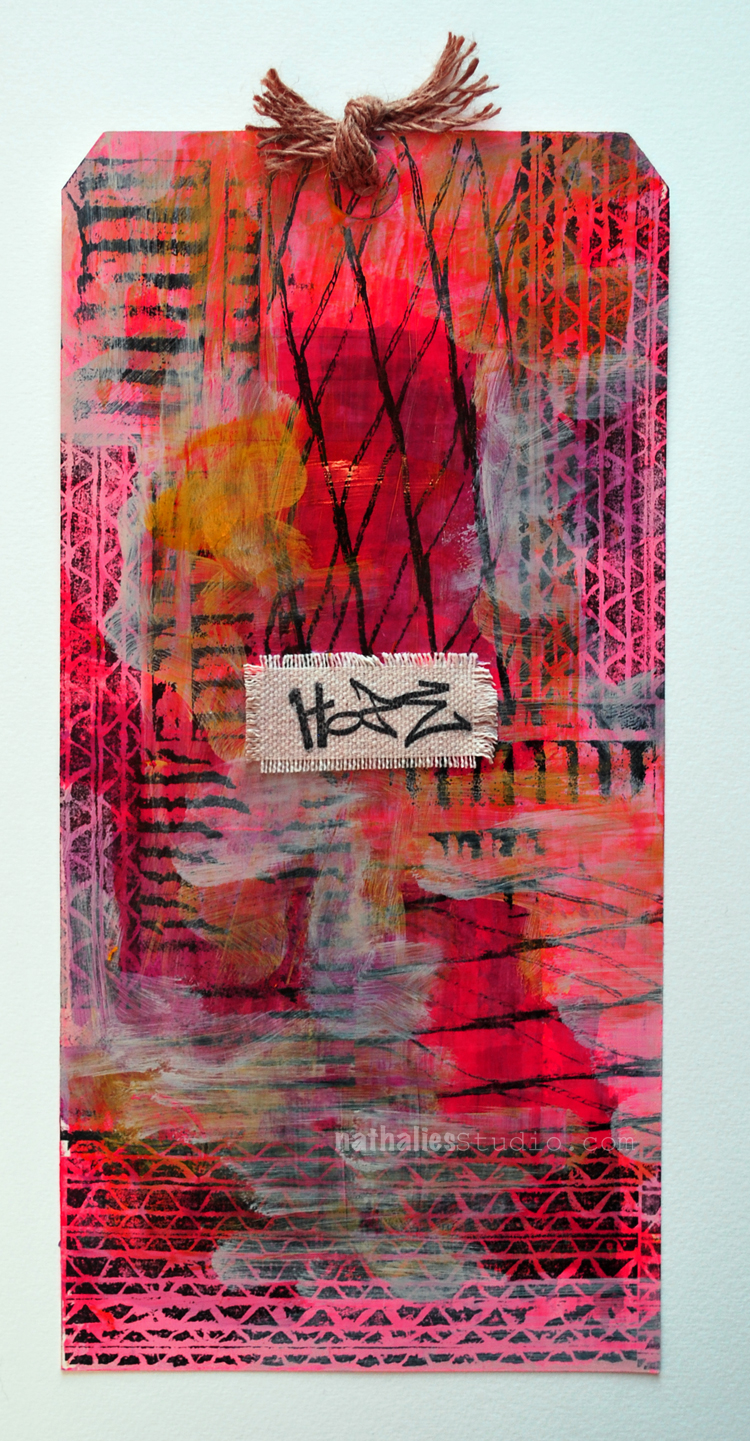 All of the sets and all of the single stamps are available as red rubber cling stamps from my store as well as from RubberMoon direct. RubberMoon also sells all of the stamps as wood mounted stamps.
I hope you like these new stamps- I am so so excited about them and cannot stop playing with them.
If you wanna hear and see more about them watch the recording of my  Facebook Live Kaffeeklatsch with Nat from my  Facebook Page
Have a wonderful start into the new year today
Loves