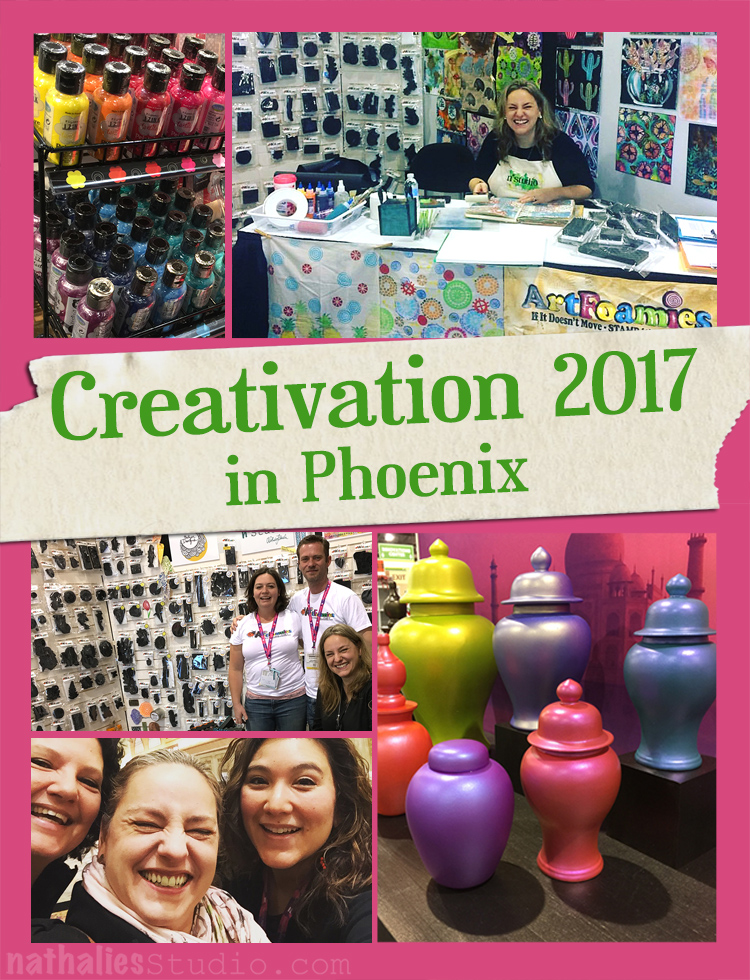 Last week I went to the Creativation Show in Phoenix. Creativation is a tradeshow, former called CHA for creative arts products industries. I thought I'd share with you some pix from my time there and what and whom I saw :)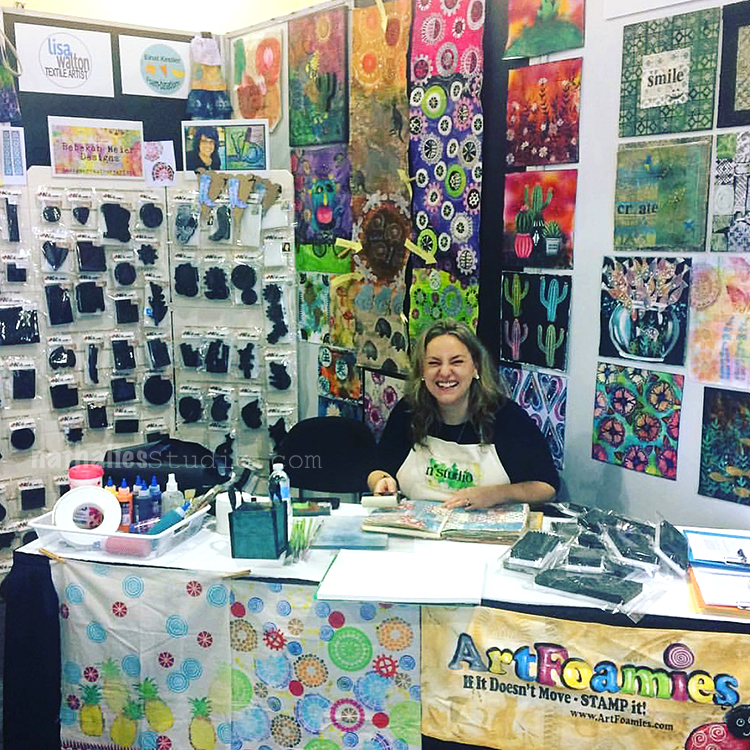 Here I am demoing with my stamps in the ArtFoamies booth. I had such a good time with Emmie and Ian, the owners, and I loved seeing a lot of people coming by to check out the designs and the new Clay and Pottery Versions too.
Here is a short video that Craft Test Dummies recorded of me in the booth …note that I am really sick …to be honest I have no idea how I made it through the show
I also have no idea how my sweet friend Birgit Koopsen made it through sharing a room with me ;) I hope she didn't get sick when she returned home. But we had an amazing time!!! Here we are at breakfast – with one of my art mugs :)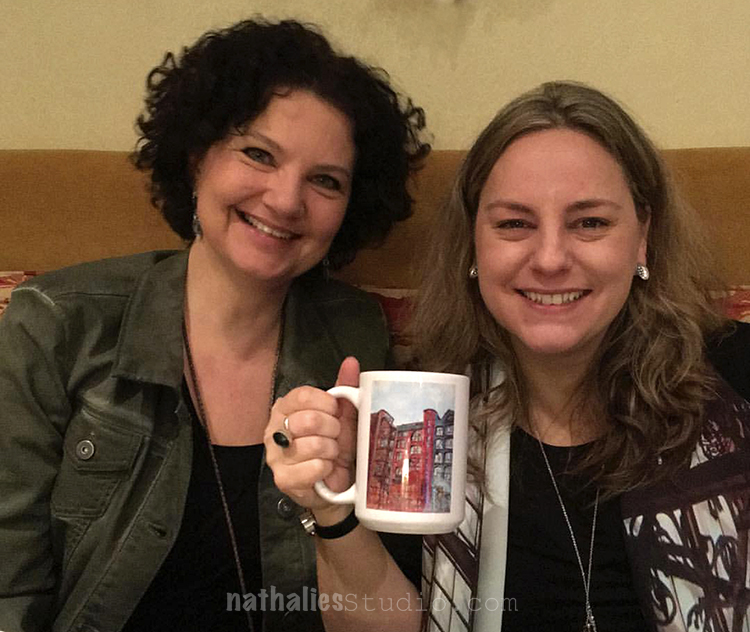 On the way to Phoenix I met Seth Apter at the gate in Newark, which was so much fun , extra chatty time for us – and here he is demoing with his products at the Spellbinder booth.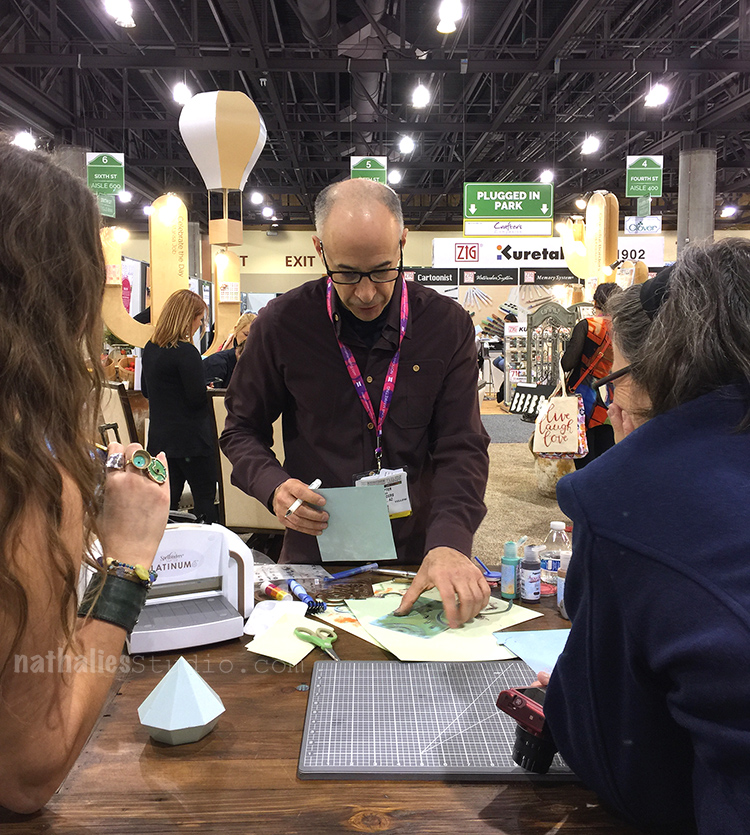 Here are two things that I found and have already ordered – cannot wait to get them. These are by Masterson Art Supplies, a company that was in the new exhibitor section , but is actually already around for over 40 years.
On the top you see the Rinse Well which consists of a plastic bottle that holds 28 ounces of fresh water, a durable plastic base with a well in the center for brush cleaning and a reservoir to hold the used water. Simply pressing the button at the front of the Rinse Well drains the used water into the storage base and automatically refills the well with a clean supply of water. I have to try this – hopefully it saves me a couple journey to the sink :)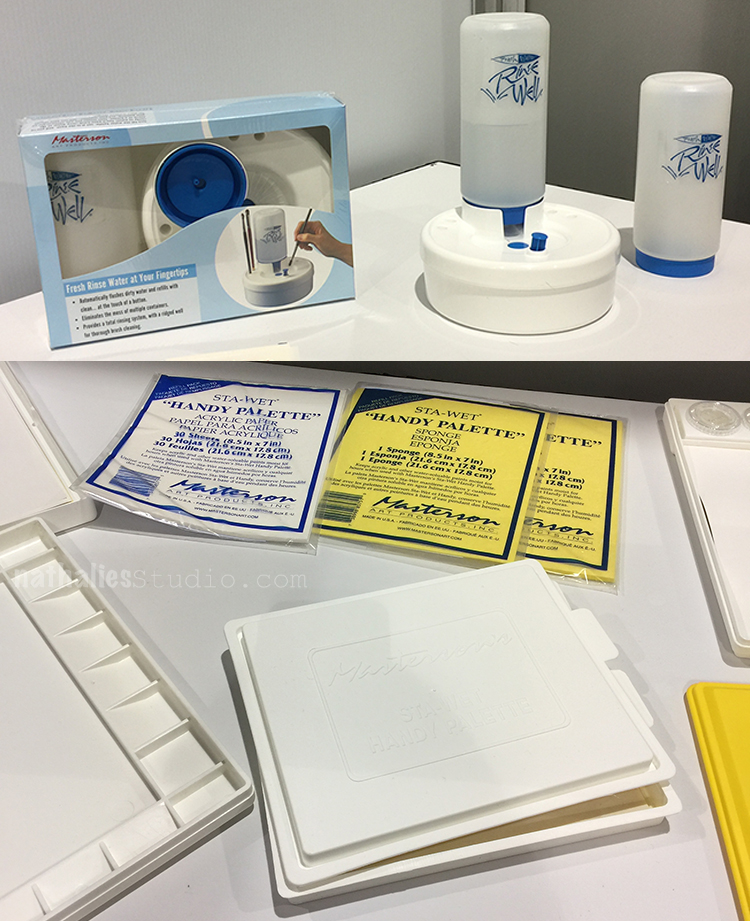 On the bottom of the photo above you see Masterson's Sta-Wet Palettes. The palette is supposed to keep acrylics and other water-based paints moist on the open palette for hours. Once the lid is closed, the paints will stay in workable condition for days, even weeks. A unique sponge and special permeable palette paper provide the paint with a constant source of moisture. I cannot wait to try it and will let you know if and how it worked .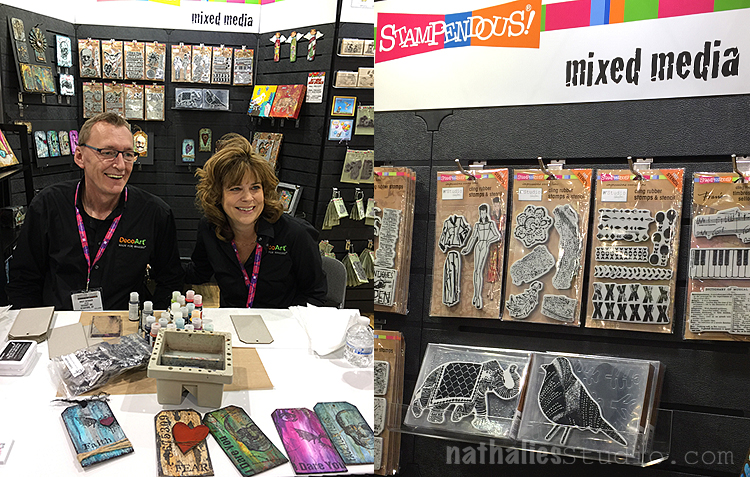 I visited the Stampendous booth shortly, they are still carrying some of my stamp lines and it was fun to see Andy Skinner and Tracy Weinzapfel do their shenanigans.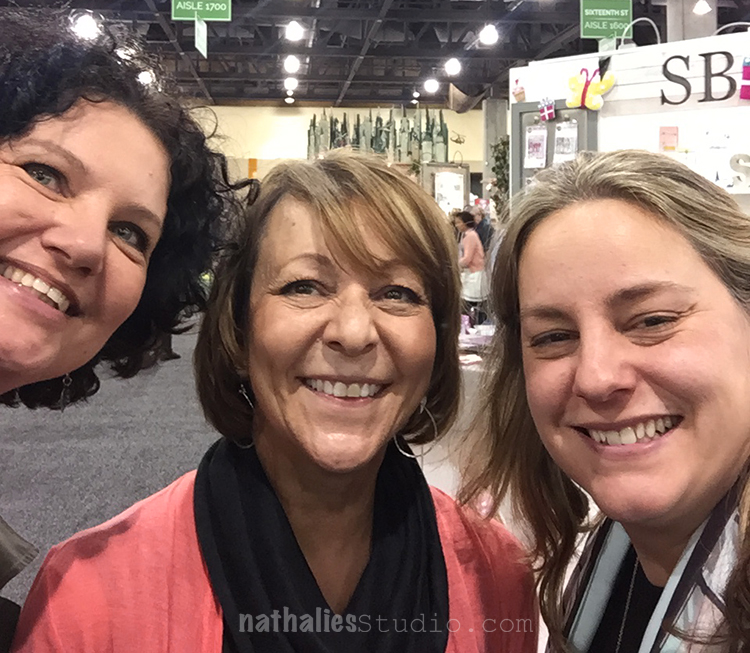 And we ran into the amazing MaryBeth Shaw and had a fun chat and laughed a lot. Thanks MaryBeth and Carol for the trail mix…that saved Birgit and me from starving later ;)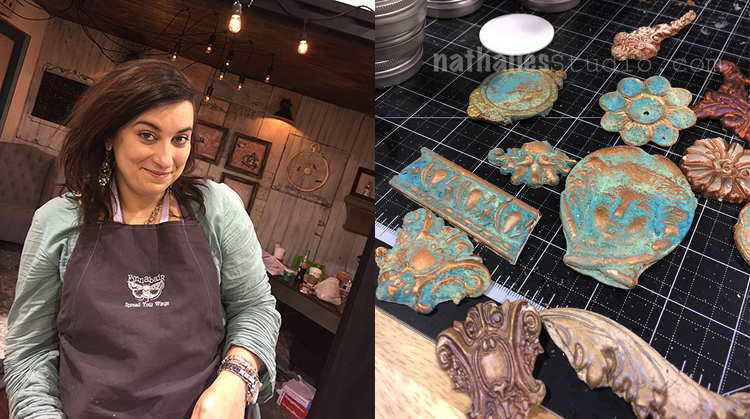 Above is Anna Dabrowska, who showed us her new patina paint set, which was really fun- I liked it a lot!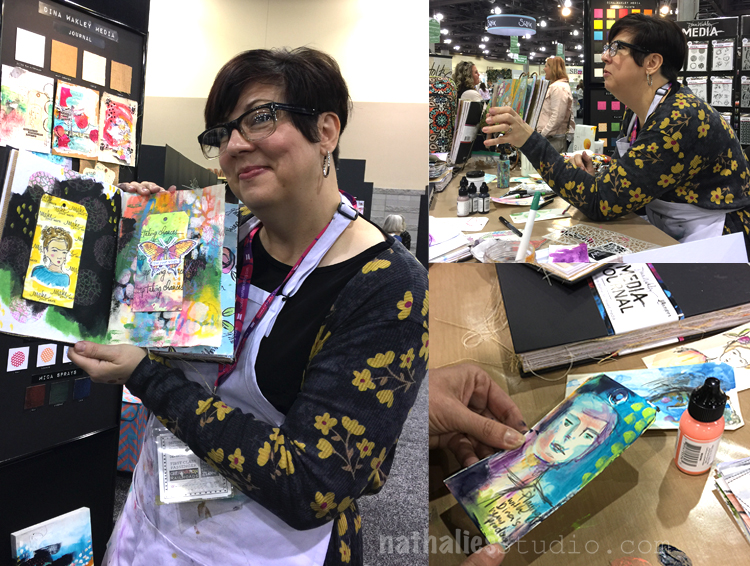 One of my favorite new supplies is brought to you by the sweet and awesomely talented Dina Wakley! Her new Media Journal has different surfaces inside including burlap, canvas, cotton rag, watercolor paper, and kraft paper. OMG  I so cannot wait to get that puppy art journal into my hand. On the left she is showing some of the amazing pages that Creative Squad team member Cheiron Brandon created in the new album. On the bottom right you see some experimenting by Birgit with Dina's new Scribble Sticks– they are a lot of fun!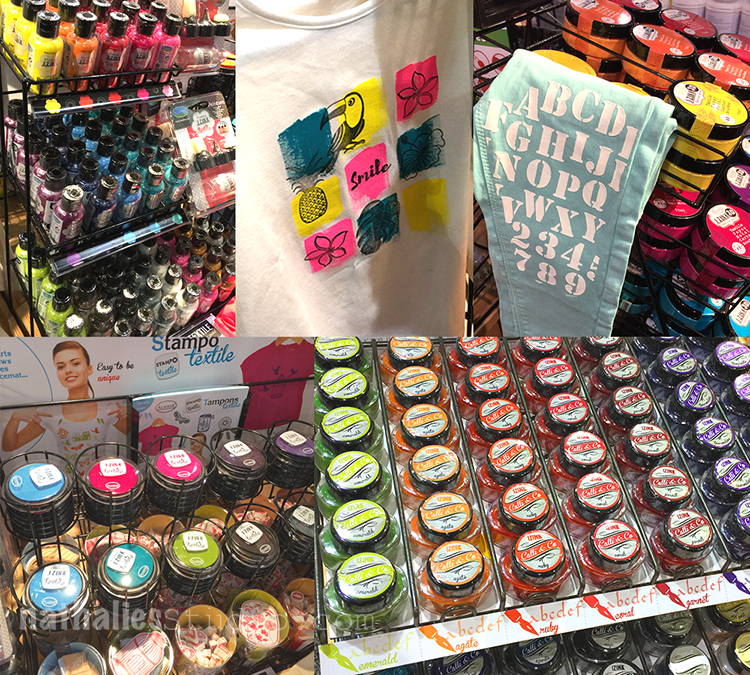 Another booth that made my heart sing, was Aladine. Aladine is a wonderful company from France with different paint products in bright and coordinating colors. From inks, to calligraphy inks, to stamps pads and acrylic paint …they have it all in the yummiest color. But I was especially intrigued by their Textile paint, and paste – which you can see both on the top . I cannot wait to try it out with my stamps and stencils and will let you know how it went soon .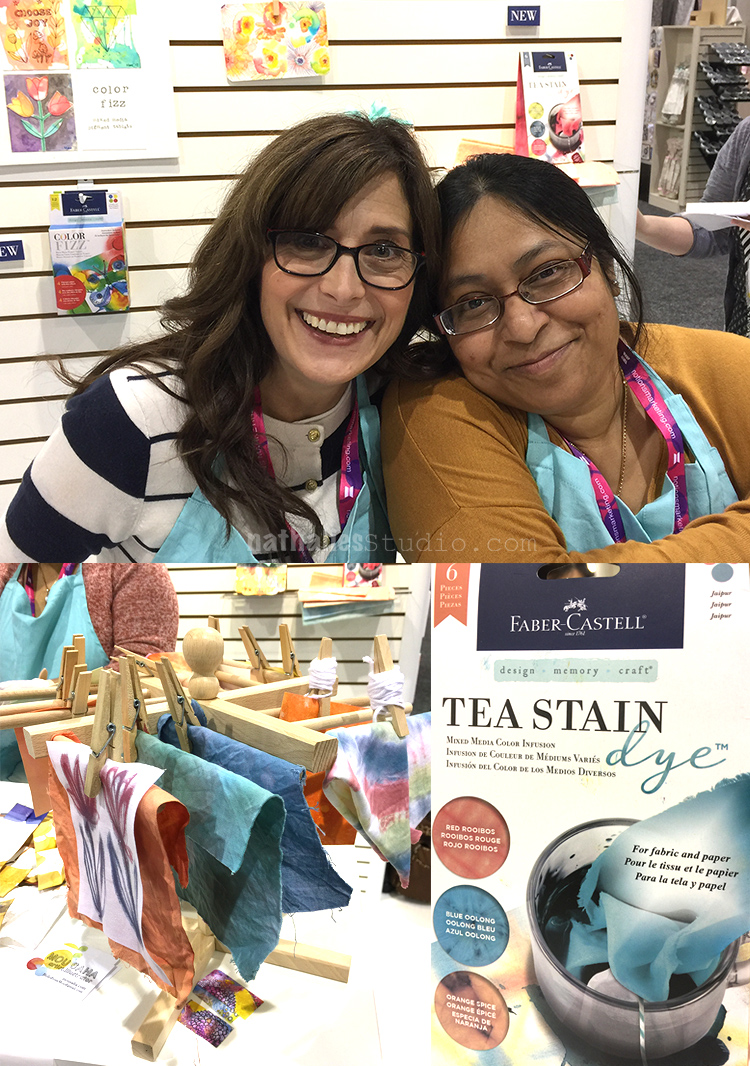 Another highlight was seeing those two beautiful faces!!! Rae Missigman and Mou Saha . I could hang out with them all day. They showed this fun new Tea Stain Dye by Faber-Castell . I loved the muted colors and I already bought some plain sari silk ribbon and cannot wait to play with that a bit.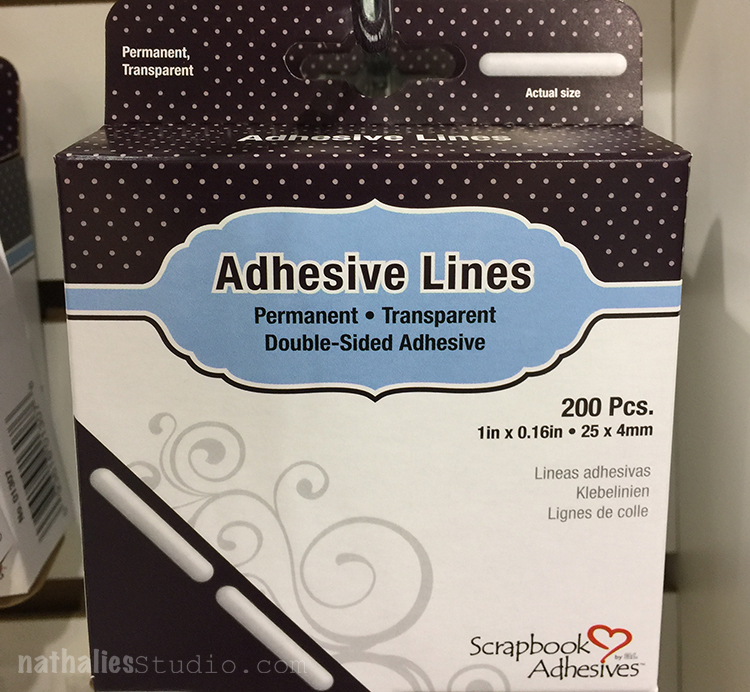 I know that this seems a bit geeky but I love the new Adhesive Lines by Scrapbook Adhesive- I am a sucker for good adhesive :)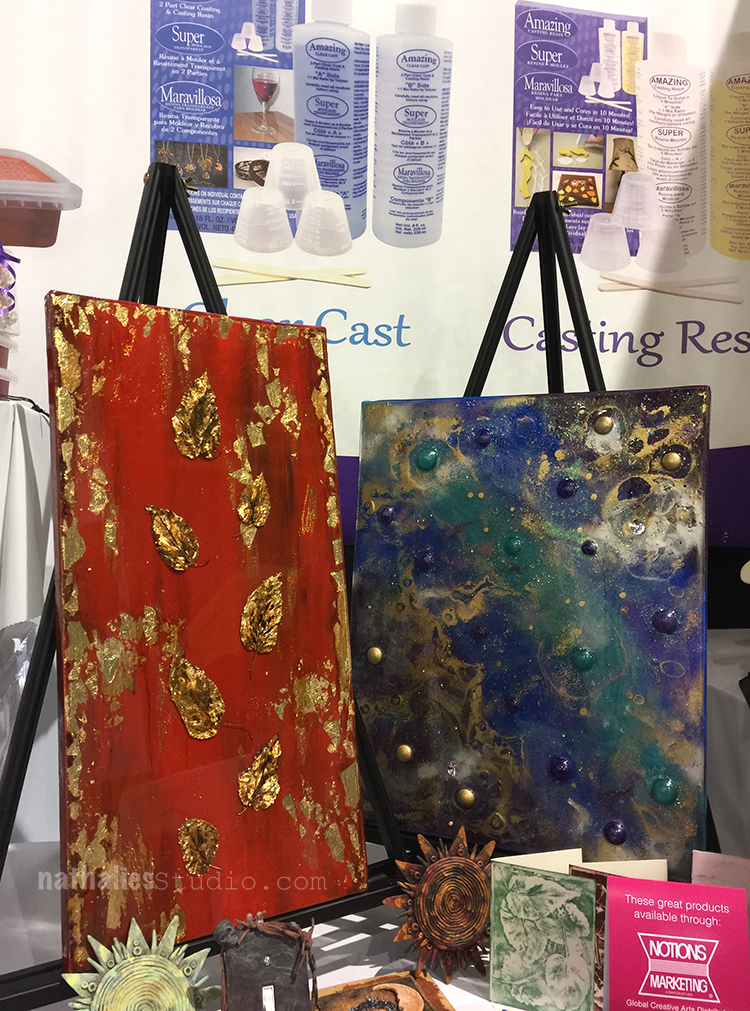 As always I visited my friends from the Alumilite booth and I loved their samples with resin and molds – still on my to-do lists- there I shout it out to the universe I will do some stuff this year – hold me accountable ;)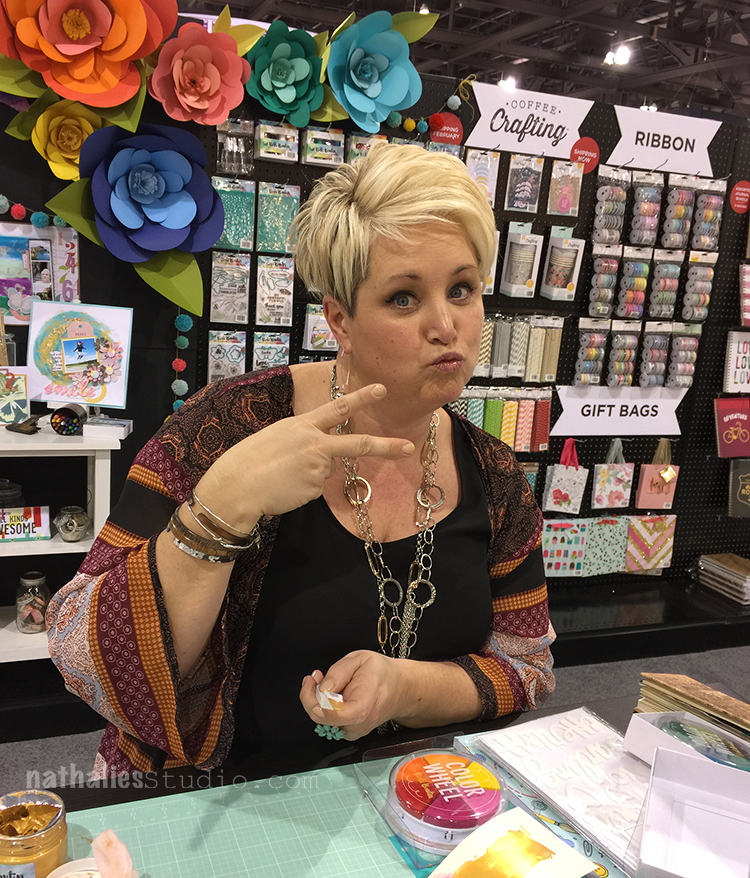 Vicki Boutin came out with a fun Scrapbooking Line with American Crafts in yummie colors and designs. I really liked her new pens in various colors that had a super nice feel to them and seemed to write easily on acrylic paint. I have to play a bit more with those- you can never have enough awesome journaling pens!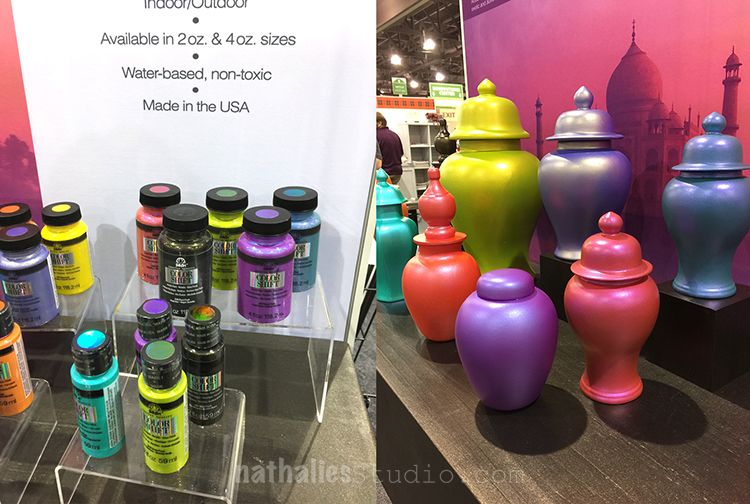 Bright and happy colors were everywhere this show- as you know that makes me happy.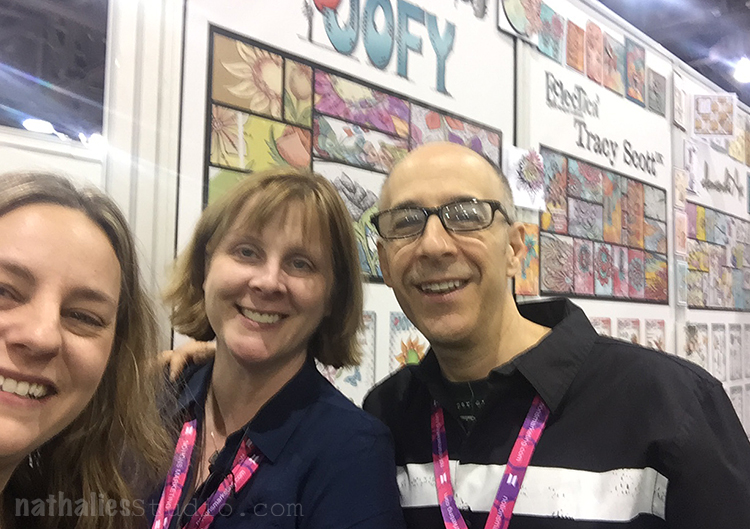 Here is a photo of Marjie Kemper (Marjie- so sad it was just a short moment I saw you ) and Seth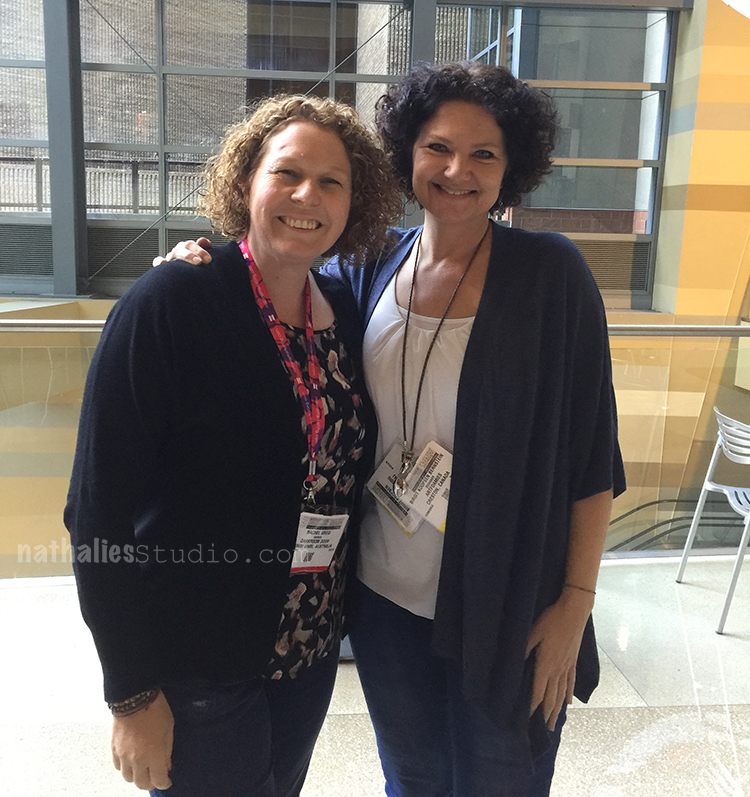 and here is a little break with Rachel Greig from Darkroom Door and Birgit. Always fun to spent time with Rachel! The three of us might have hashed out some plans for 2018 …psssttt ;)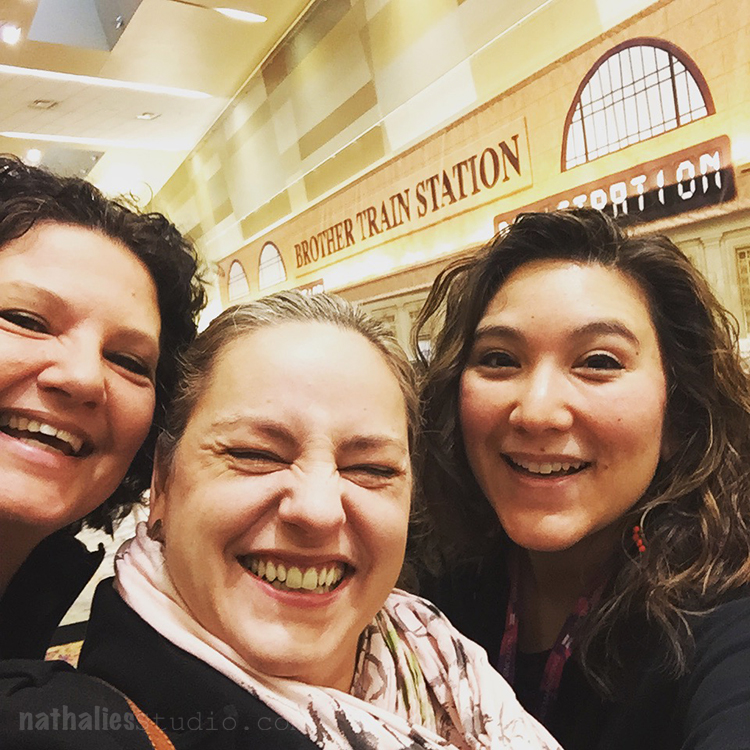 my girls – it was the best to spent so much time together this show!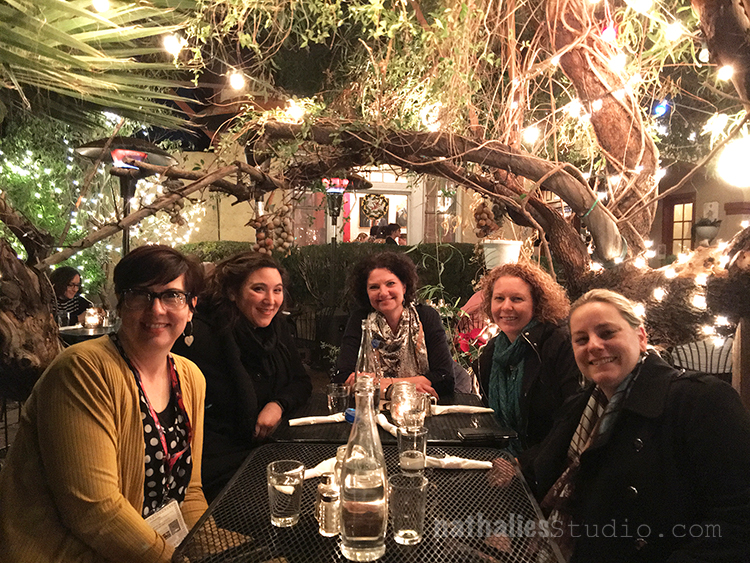 and of course a dinner with these sweet friends outside (under a heating lamp- boy it was cold in Phoenix) was the best of this trip!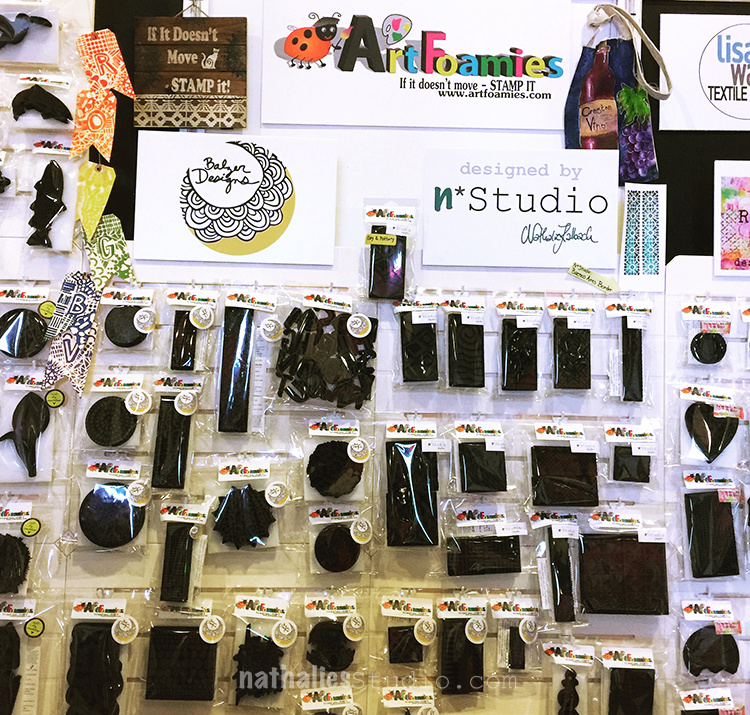 I spent some more time at the ArtFoamies booth …and don't ask me what Julie is doing there to me…LOL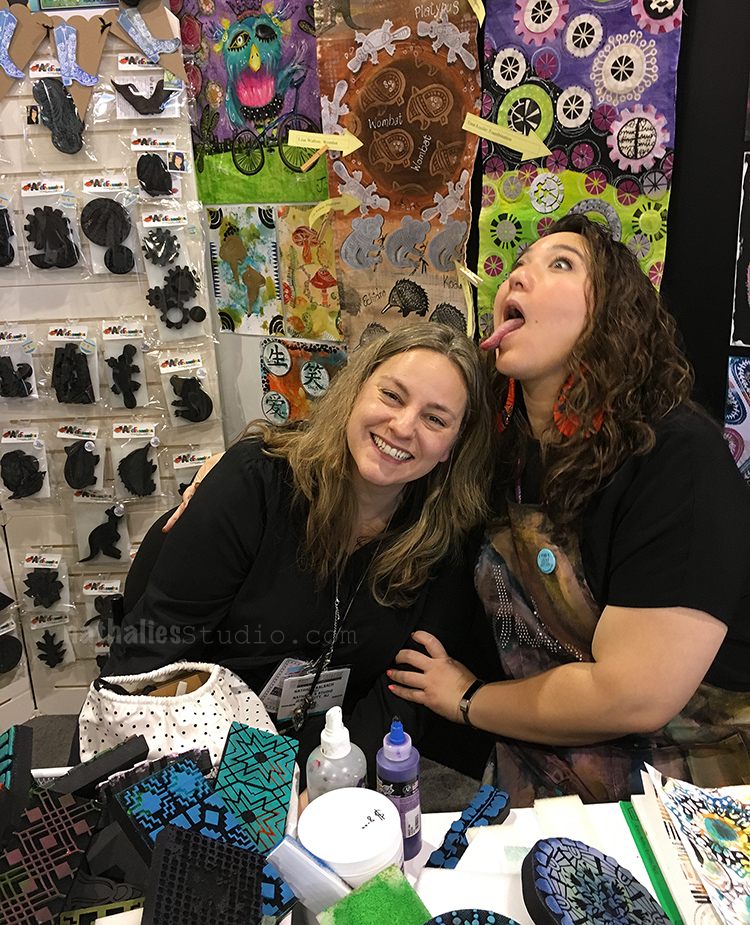 And here is us together with Emmie and Ian in the ArtFoamies booth – love you guys!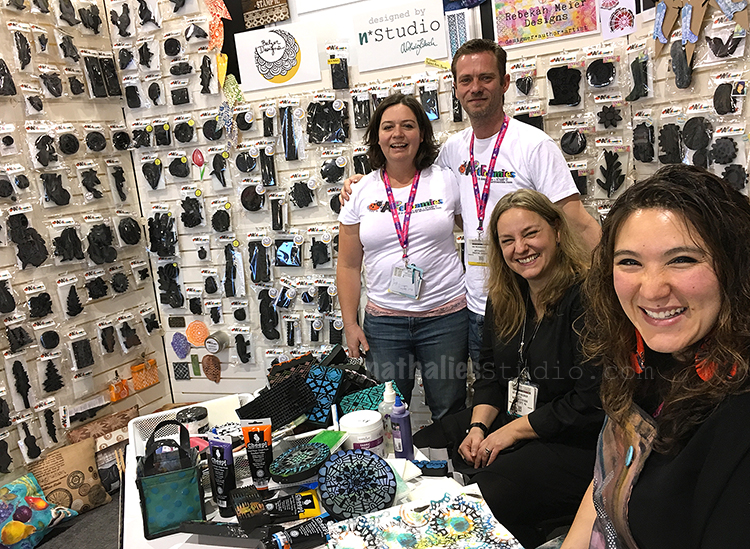 That was it. The show was shorter than usual but I do have to say I really enjoyed it. I saw some interesting things, met a huge amount of people and …the most important thing, spent time with my peers and had awesome conversations. I cannot wait to play with all kinds of different new things and share them with you.
What did you see posted about the show that is new and excites you ?