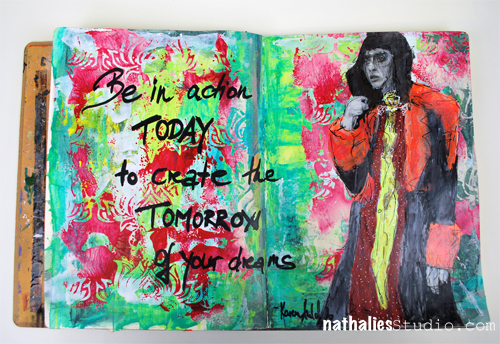 My wonderful friend Karen posted her quote on her facebook page and inspired me to create this journal spread:
"Be in action today to create the tomorrow of your dreams" – Karen C. Auld. There is so much truth in this- love it!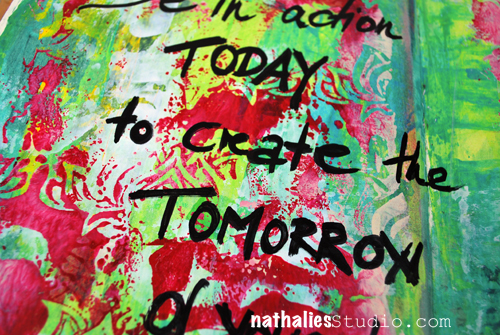 The colors were inspired by the flowers that are blooming again on my deck …it is crazy warm here for this time of the year!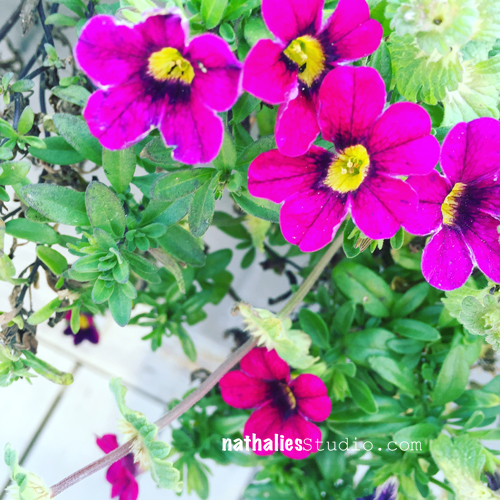 I painted the background with different shades and tones of green and then used a spray painted stencil to create a reverse imprint on the spread. It was a quick page- but it felt good to get the hands messy and enjoy some beautiful colors.
the poor girl looks a bit pale- I think she needs some action ;) I used pencils and markers as well as some other pens for her.
I will post the supply list at the end!
—– On another note! I am coming back to Sweden – Stockholm for some workshops next year – May 27-29, 2016 – woot woot!!!! —-
Check out the announcement and classes here if you are in the area – I would love to see you!!!!
I taught at this event a couple years ago and it was amazing – I am looking forward seeing some familiar and also some new faces again!
…….and here as promised the supply list for the art journal spread –

I wish you a gorgeous day!