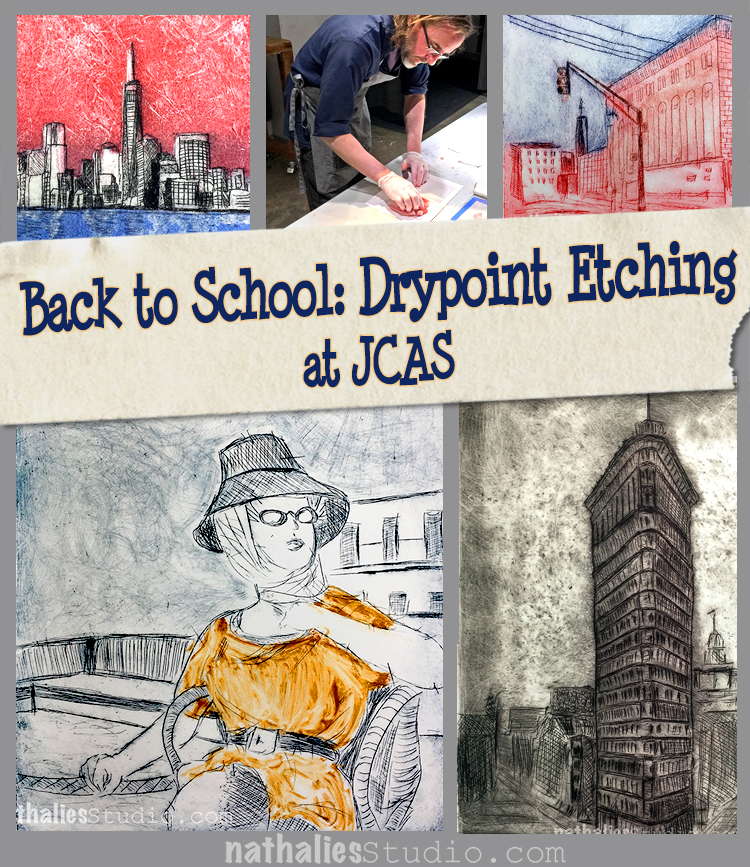 This winter I took a drypoint etching class with Bruno Nadalin, a fellow Jersey City artist at the Jersey City Art School. I have taken a Linocut Class with him before and he is an amazing teacher, so I knew it would be good. And I wasn't disappointed. The class with 6 x 3hour lessons  was AWESOME.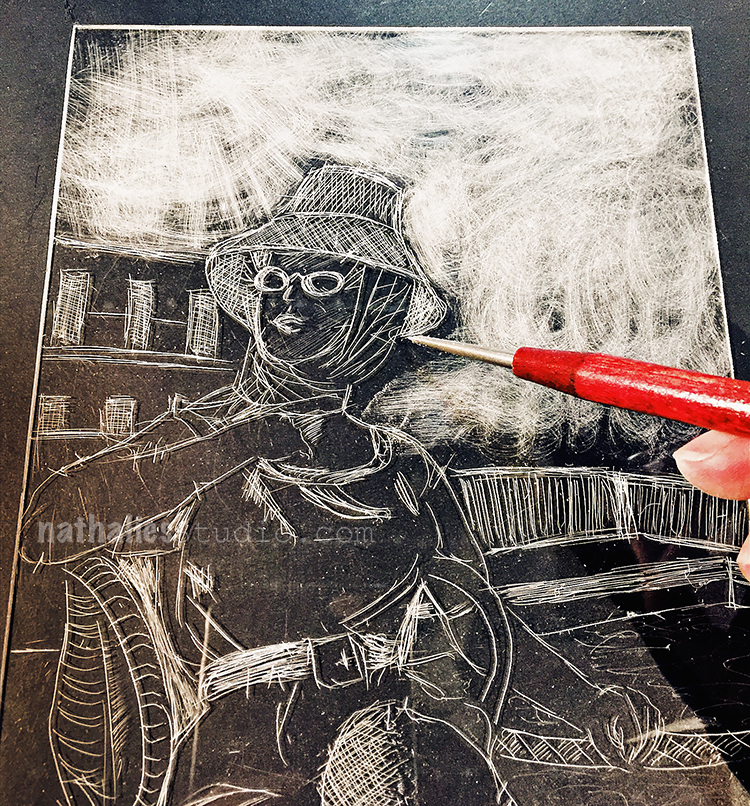 In this class we did drypoint on acetate/plexi plates. Using a sharp needle and/or other tools you scratch an image into the plate. The plate above is the one I did in the first lesson after we practiced with some different applications and tools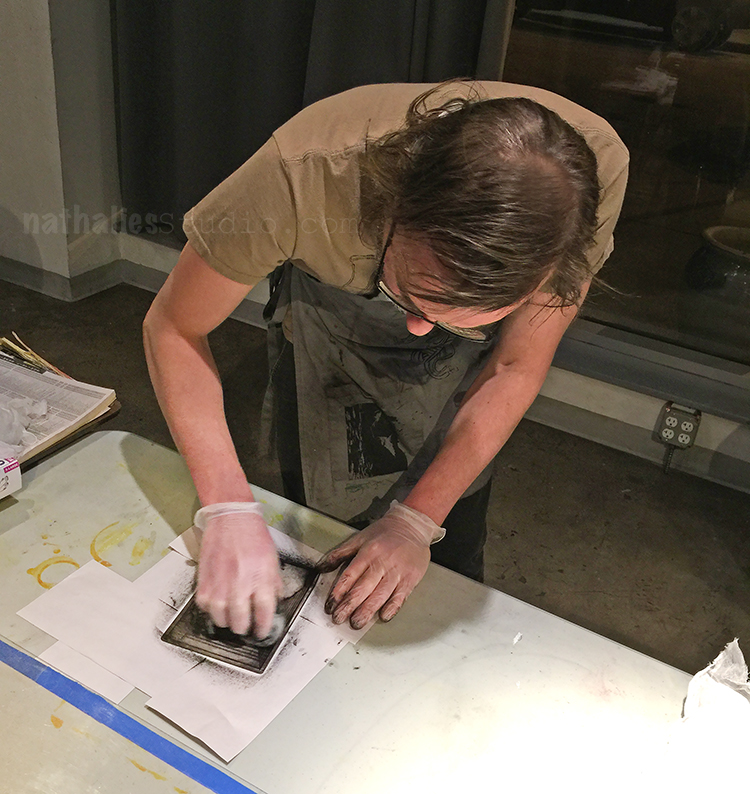 The plate then is getting inked up and then the ink is wiped off again – the ink remains in the creases of your etching and that is where the magic happens.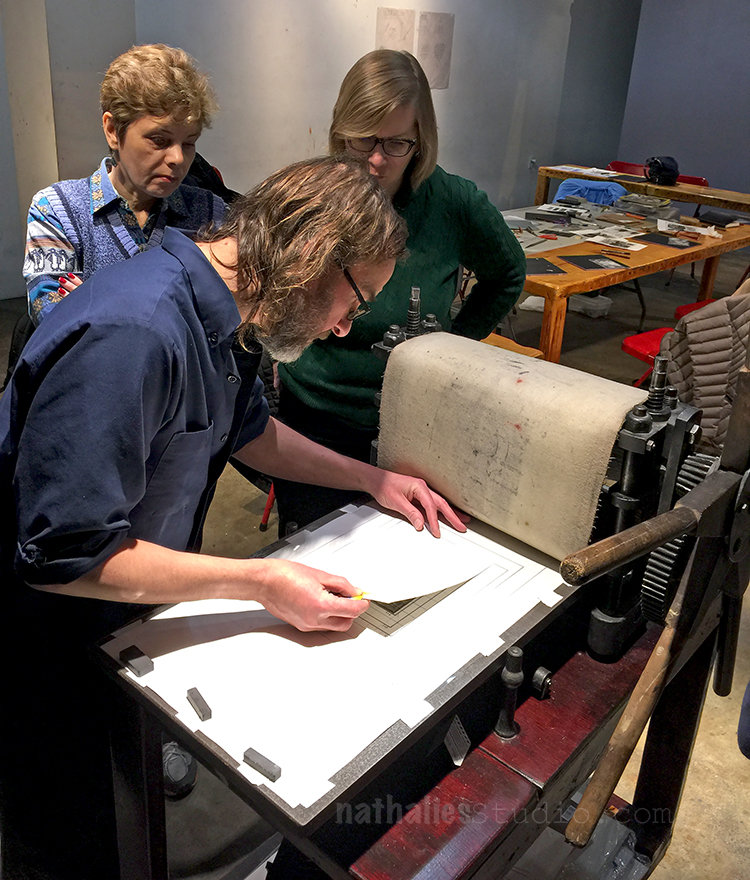 Here is Bruno putting a sample onto the printing press at the JCAS.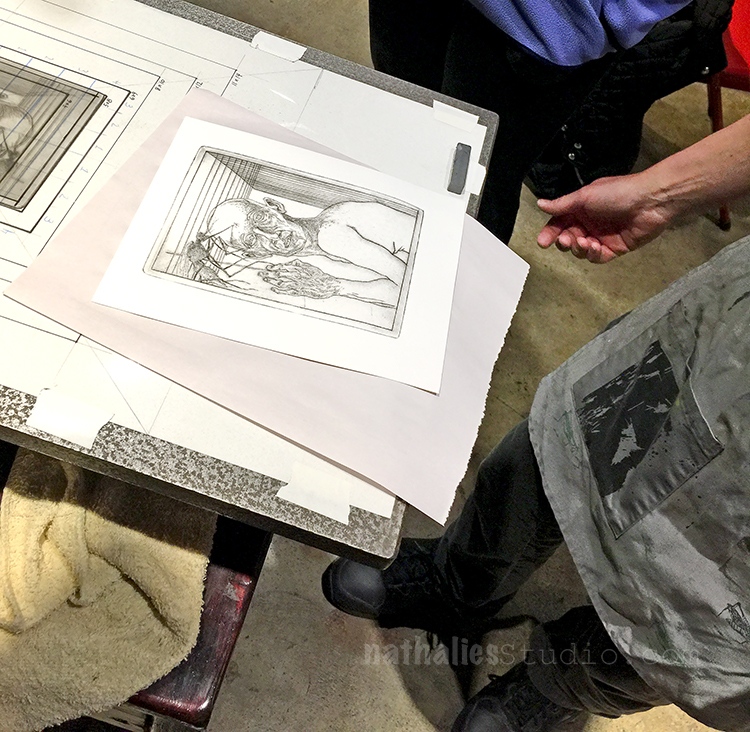 and here is his amazing sample coming out of the press!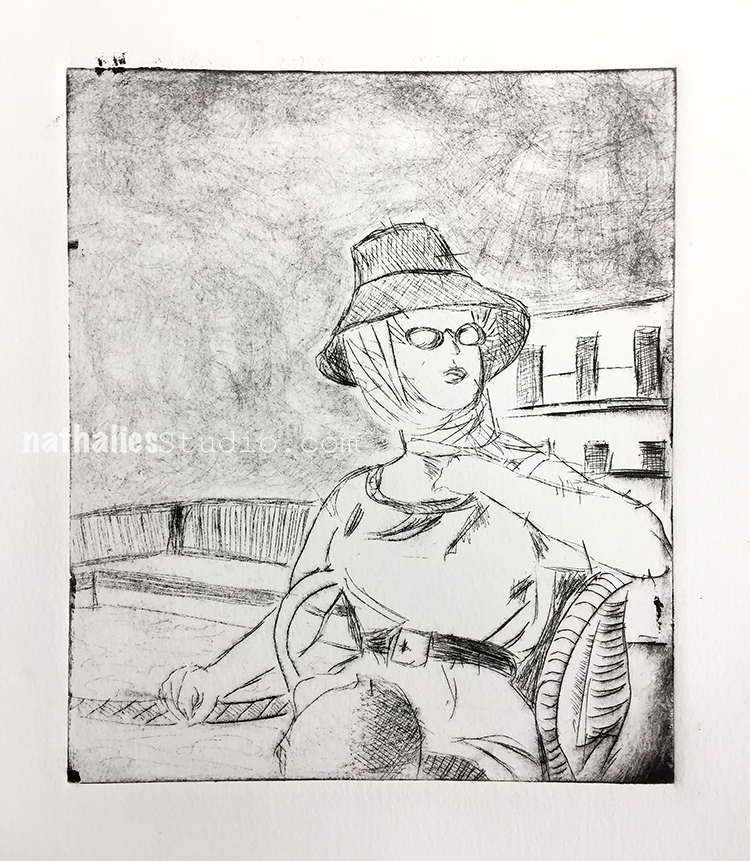 Above is the very first print I did with that plate.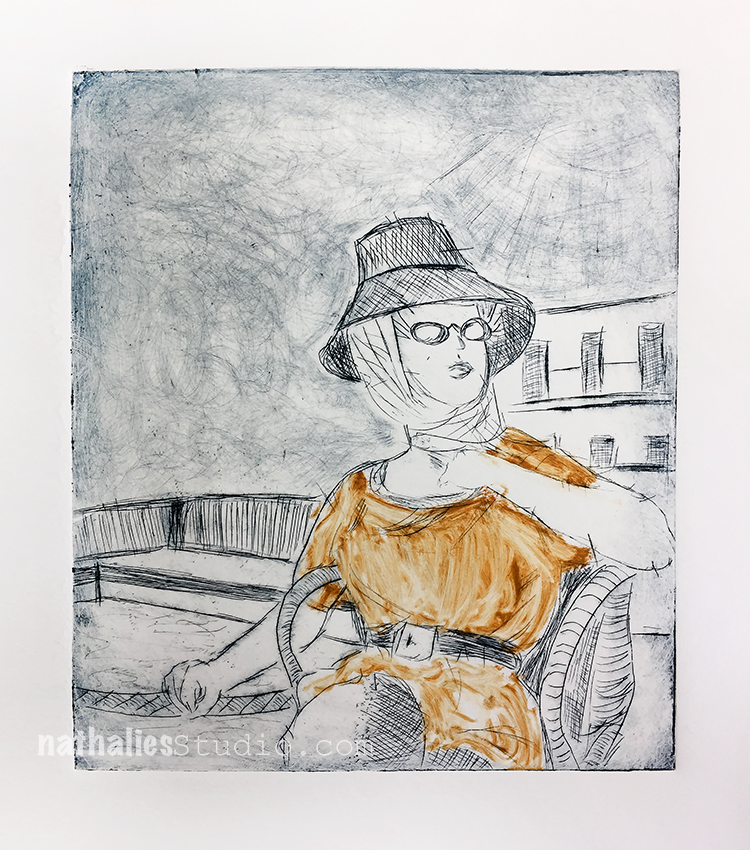 For the second one I applied a bit of color to the jumper.
In the second lesson, Bruno showed us how to make multicolor prints with the technique called a la poupee.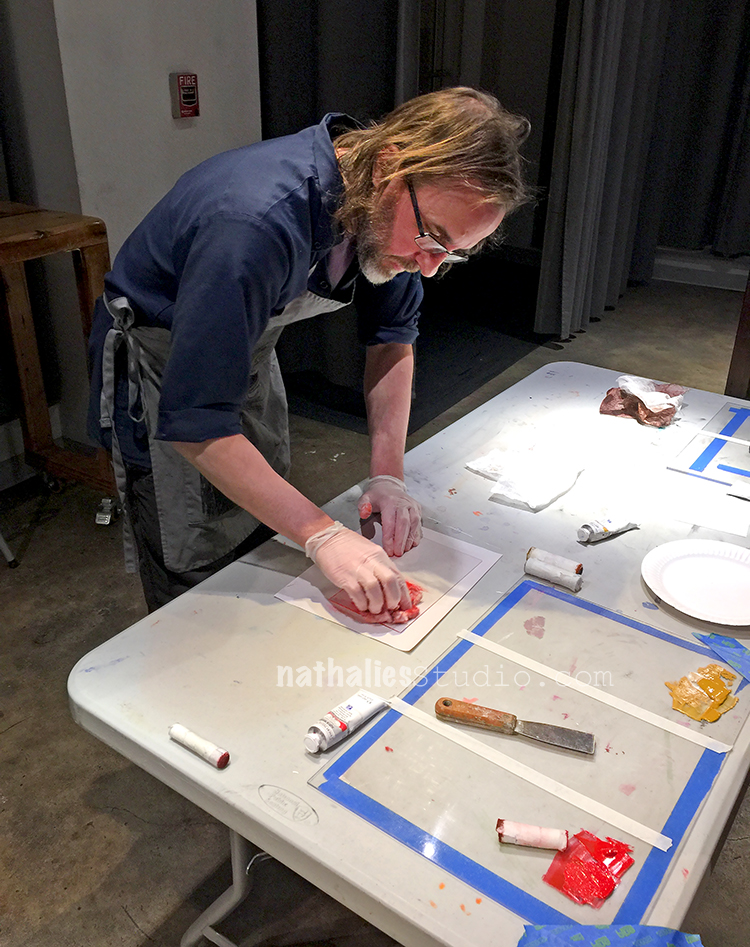 And below is his sample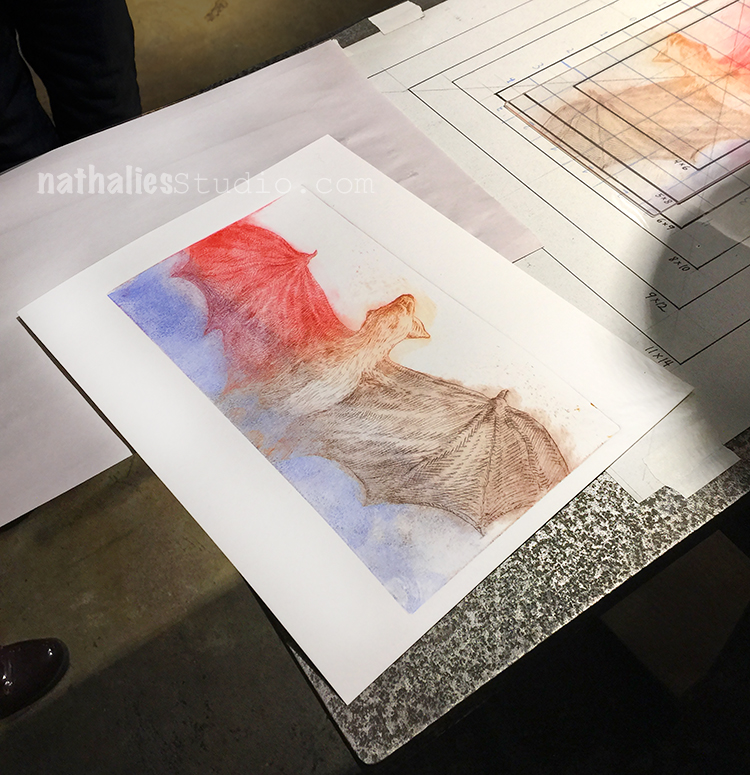 I started with a new plate which I had prepared at home- see I just couldn't stop scratching at home- LOL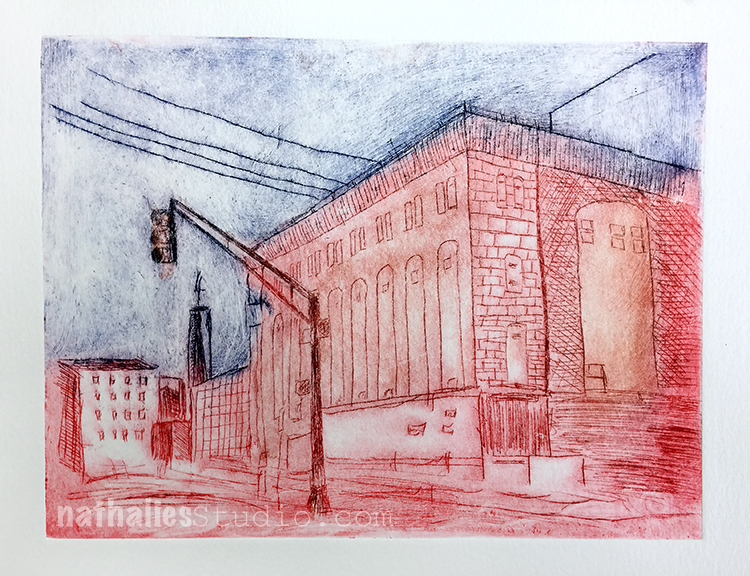 And here is the second one with the powerhouse – some of you might recognize this building :)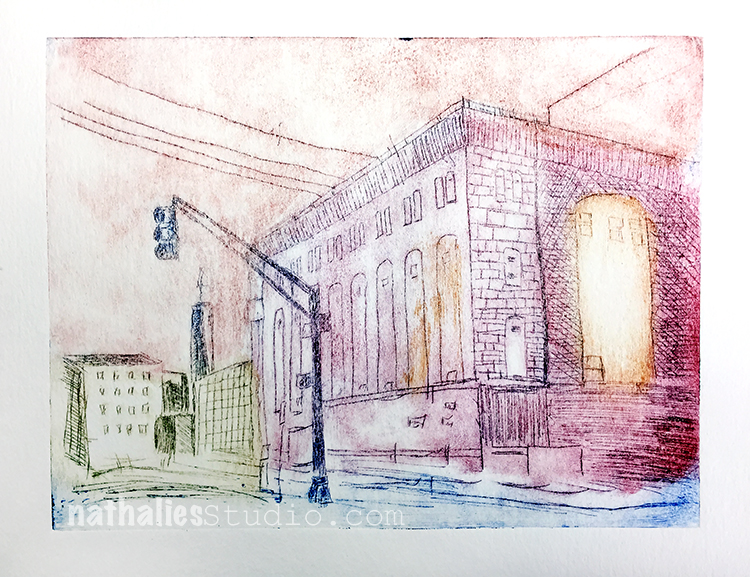 The third print came out the way I envisioned – I really love it. As Bruno says it is all in the wiping. Making the plates is actually not the work load, it is inking those plates up and then wiping them down again that makes up most of the technique and time.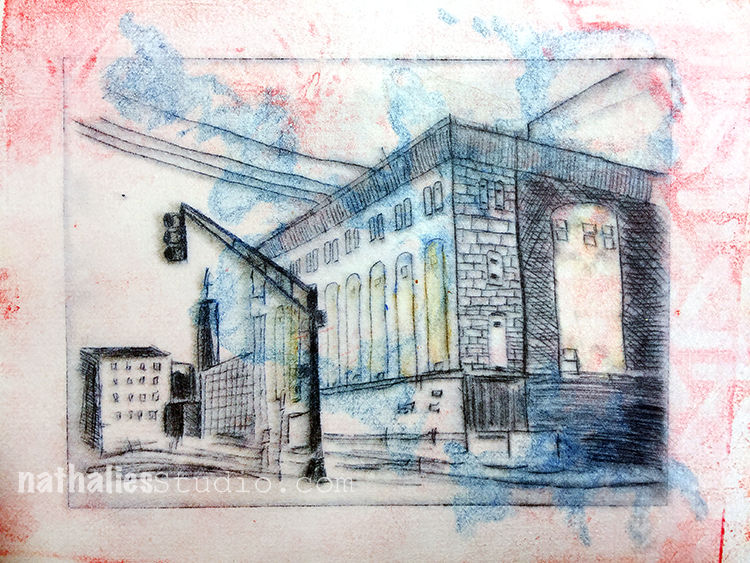 The print above was an experiment. I did some mono prints at home with Akua Inks which I always wanted to try out on a gel plate and I used this interesting paper which I had gotten at a convention many years ago. It is made out of plastic but feels like cloth. I printed on top of the mono print and I really like the outcome.
Here is a another plate I made in different stages – a part of the factory building I live in.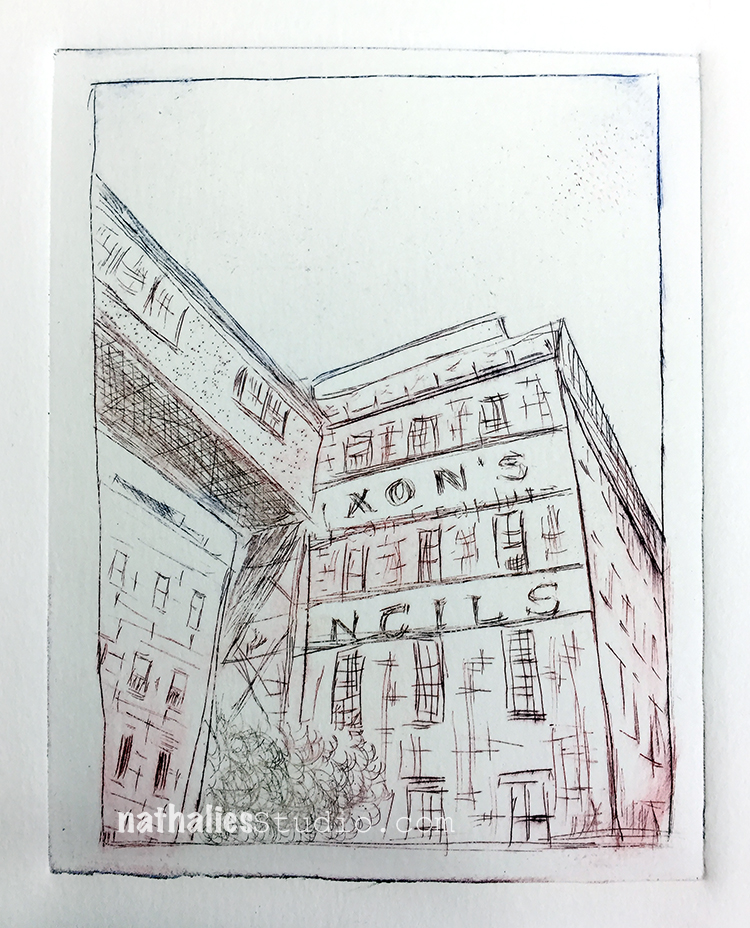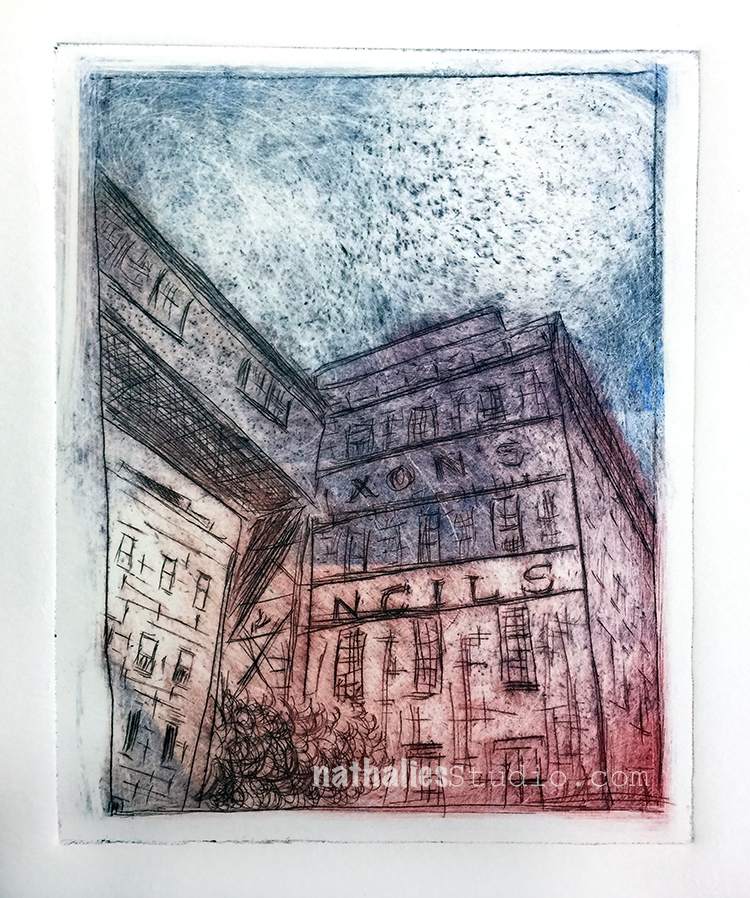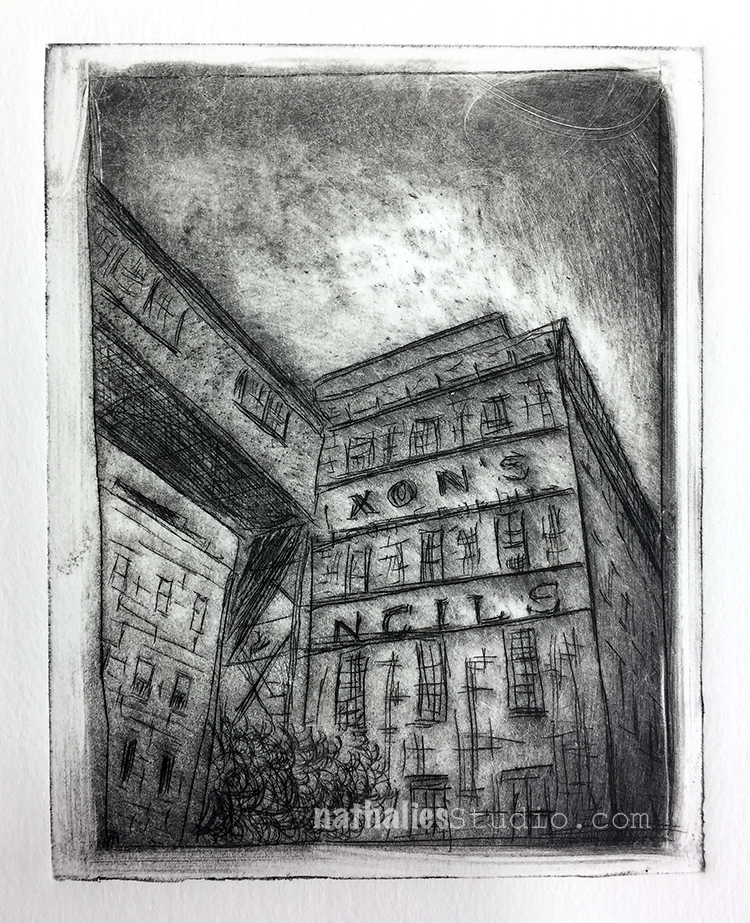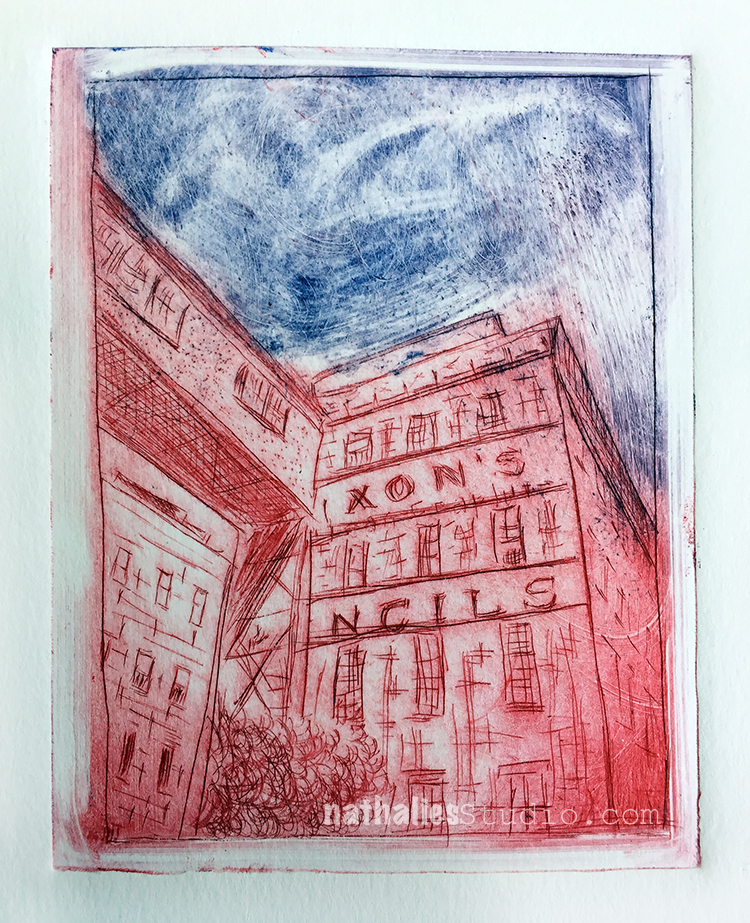 Isn't it cool how different the images look and the mood they convey based on the inking? So cool to experiment with that.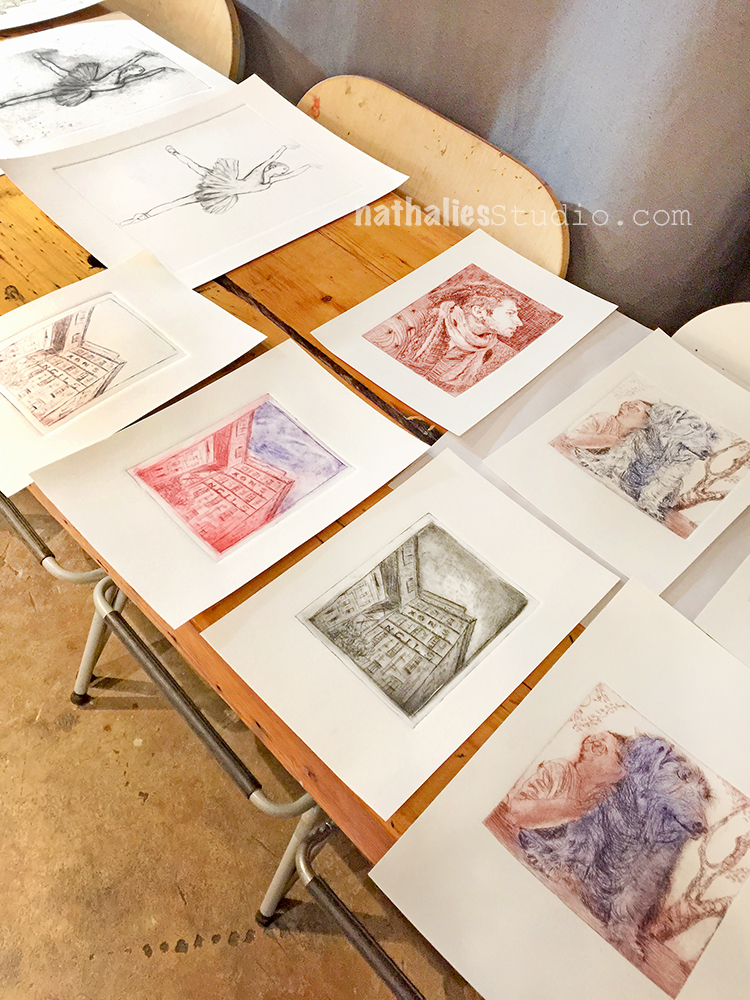 Here are a couple prints from the students in the class.
I don't want to bore you , but here are a couple more- the Flatiron Building – as you know it is a reoccurring image in my work, so of course I had to make a plate with it as well.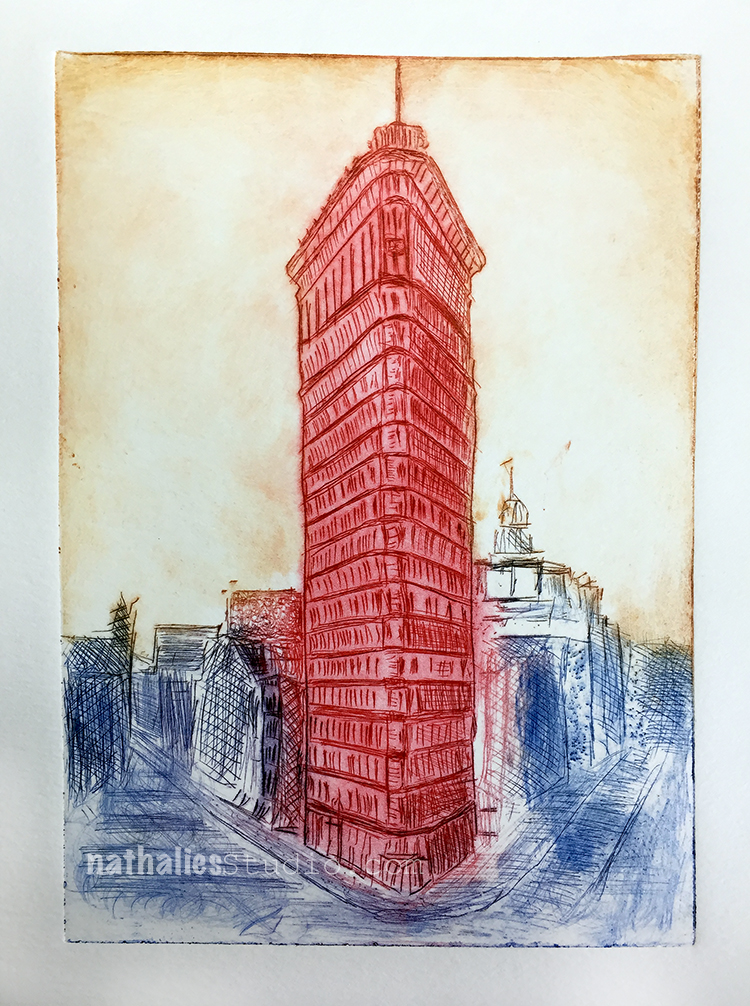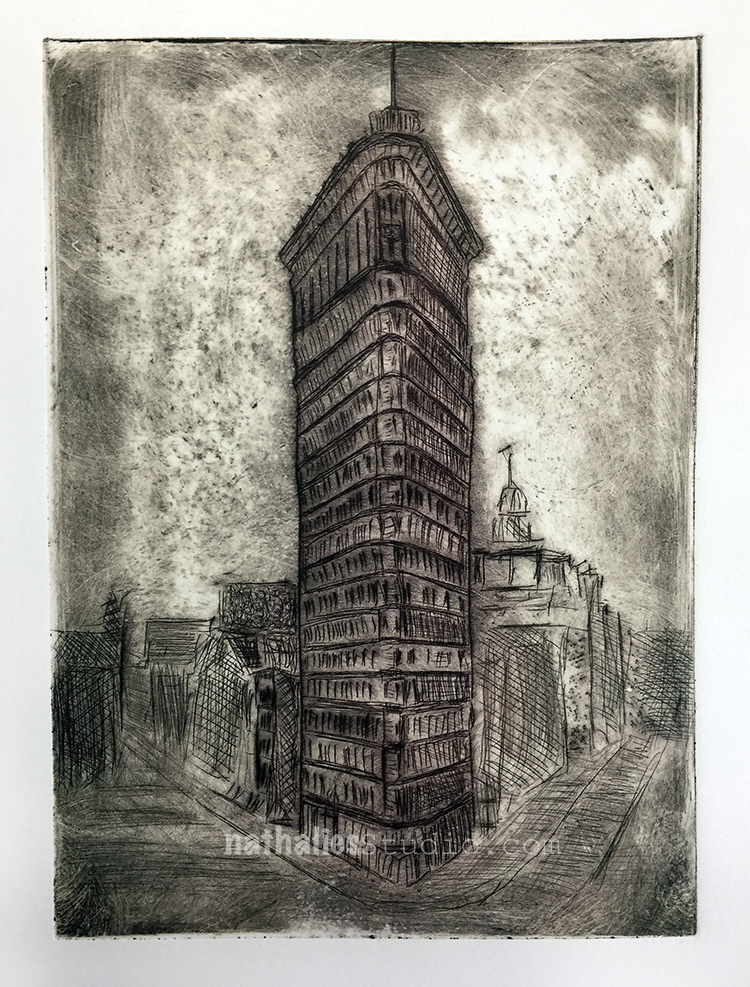 And then some prints from the last lesson where we did some two plate printing. Basically you create a mono type and then print on top of it – there are different ways to approach this of course.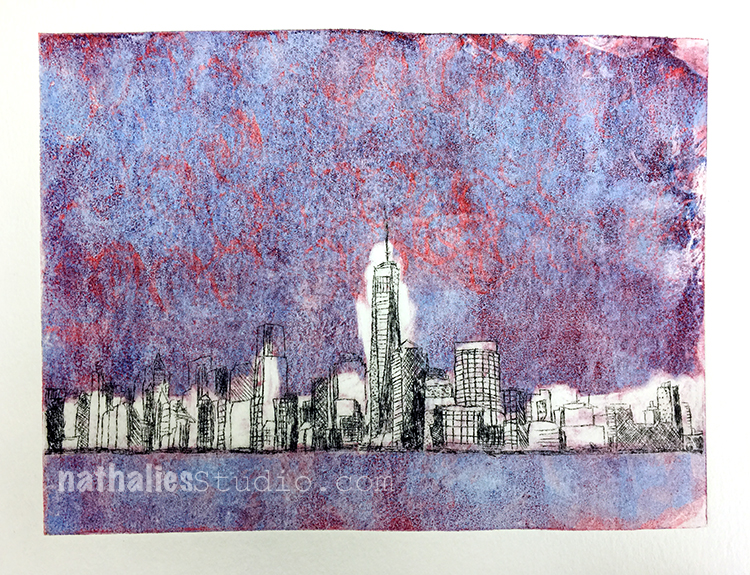 First one above as you can see I didn't wipe that well – but I still love how the colors came out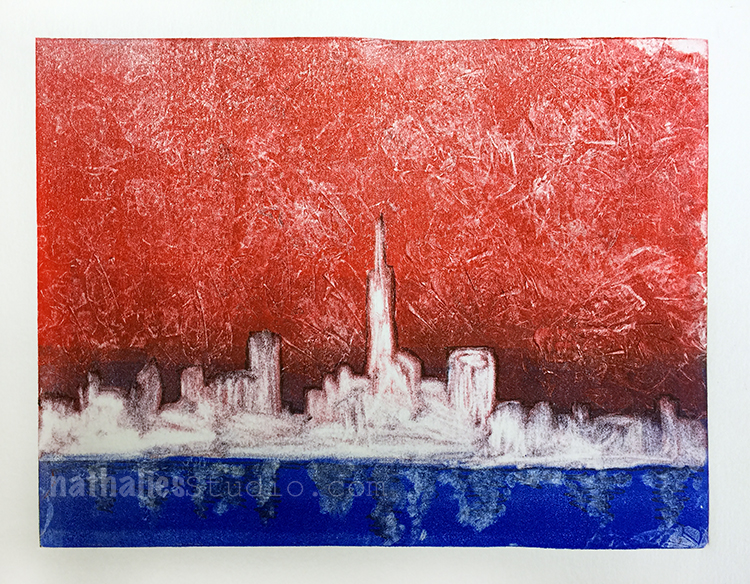 Here I had way too much ink on the first plate so I didn't print the second plate on top, but I actually love it as it is. I kept it and might do something else to it later – I will see.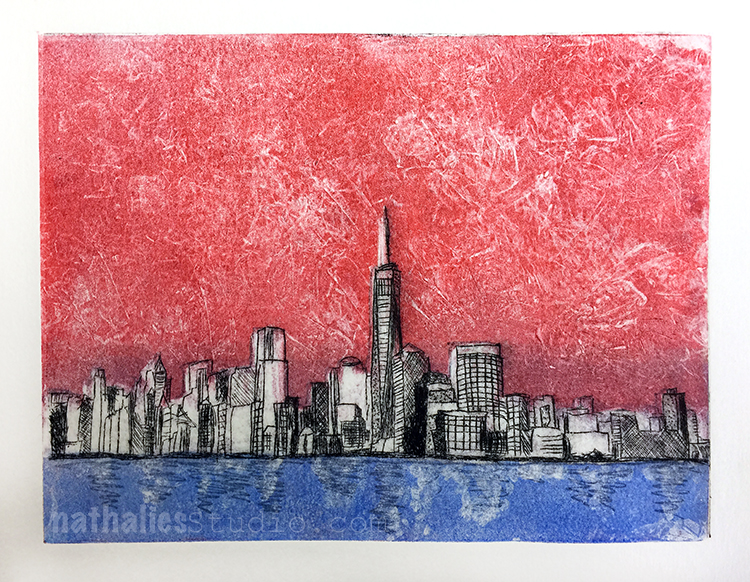 Here is the second try – less ink now- basically the ghost print of plate one and now with the second plate printed on top.
Another one – I like that one a lot.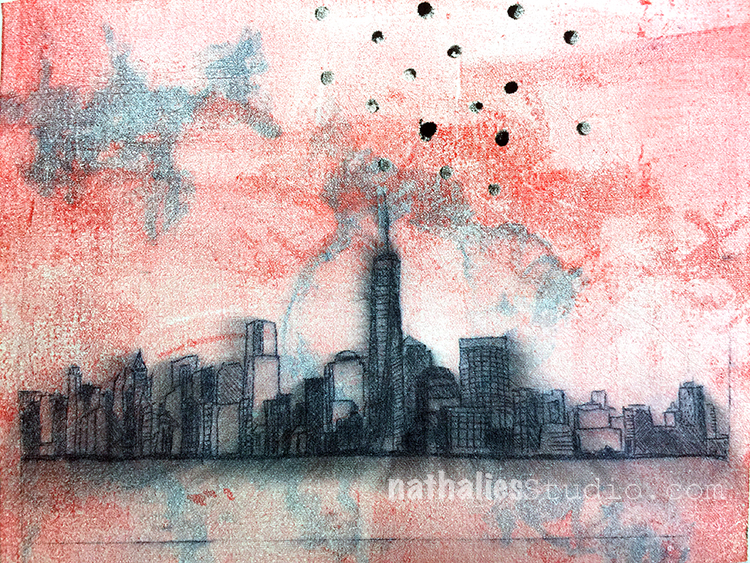 And last but not least one where I used once again one of those mono prints I did at home – the cloth-like paper had the ink of the skyline bleed a bit – I love this.
What I learned in this class:
It was first a bit hard for me to think I would not be able to do this all the time at home without a printing press but then that made me more focused and prepared for the lessons
The application of the ink and the wiping was a technique and whole process on it's own and what a fascinating one it is
I loved the different ways one plate could be treated for different prints
I love the little time span where you just don't know what is coming out of your press – when you lift up your print and see what happened. It reminded me of going to the photolab to finally get the vacation photos and seeing them for the first time.
There are art forms you just cannot get away with not being clean and organized …clean your space, clean your hands, clean the plates, clean the press …so much cleaning. LOL
I loved combining mono types with this class
There is only a certain amount of prints you can use the plates, and then that is it forever
What I take away for the future:
JCAS has print parties where you can use the printing press for a small fee- I def. will make up some new plates and join in the future to make some more prints
A way to take some of the mono prints on the gelli plate further – I want to explore this more
I enjoyed taking a class even though it was sometimes tough to go for 3 hours after a whole day of work- I need to do this more often again
I loved the pace of the class, I think I sometimes pack too much in my own classes and forget that it is also great for the students to just explore what they learned for a bit. Of course that is easier to do when you have a class that spans over several weeks but I def. look for a way to think about this in my multi-day-classes.
If you are in the area, I highly recommend taking a class with Bruno Nadalin or a class at the Jersey City Art School– it is a great place and they offer a lot of fun and different workshops and art events.