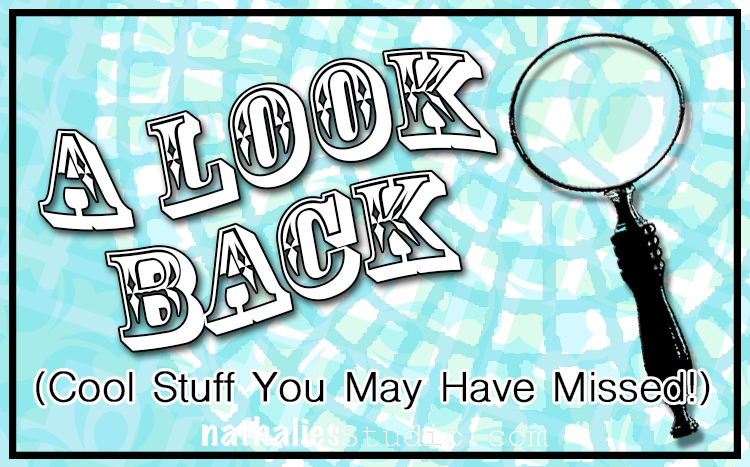 A Look Back – I thought it might be nice to look back at Art Journal pages from 2021 to get a feel for the year. Let's face it 2021 was a tumultuous year as we continue to struggle worldwide, and a lot of those feelings I got out in my art journaling. Ready for some from this past year?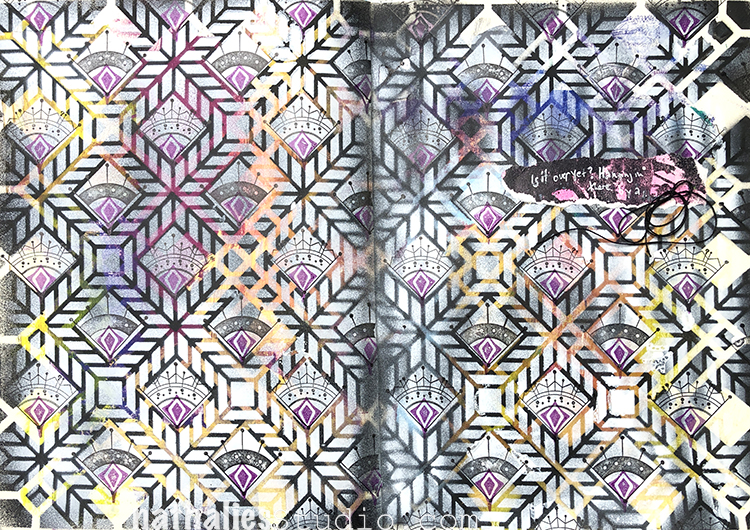 I actually created this spread at the end of 2020 and shared it at the start of 2021. The journaling reads "Is it over yet? Hanging in there by a thread." I really enjoyed creating the patterned background and I've found that building patterns is a nice zen activity for me. I was using my Chicago and Santiago stencils and then added my Mini Motifs rubber stamp which fit perfectly in the stencil design (smile). Last touch was one of my Fan-Fare rubber stamps in magenta. You can read the original post here.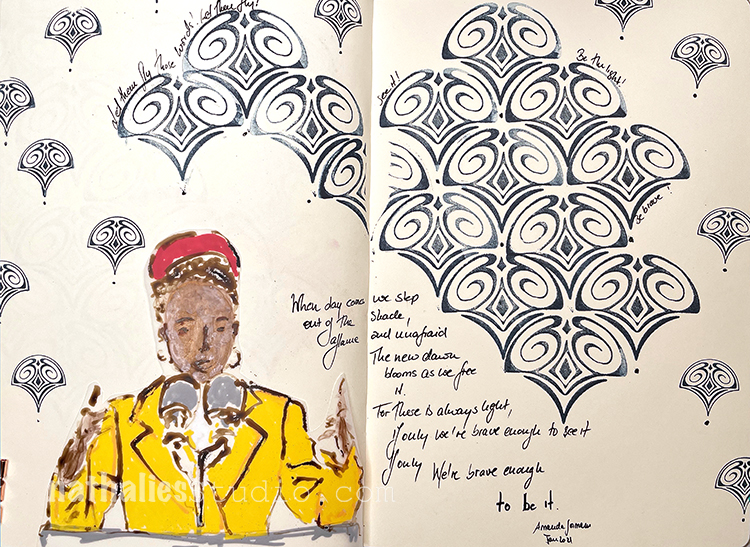 When day comes we step out of the shade,
aflame and unafraid
The new dawn blooms as we free it
For there is always light,
if only we're brave enough to see it
If only we're brave enough to be it
-Amanda Gorman
I still get shivers thinking about Amanda Gorman's powerful poem from the US presidential inauguration. I think it inspired so many of us at the start of 2021 when we needed hope for the future and someone reminding us that we can be the light that the world needs. In the spread I kept things simple to focus on her words, I had to add that yellow coat, and then a pattern using my Fairview Fan foam stamp and my Fan-tastic Small rubber stamp set. Here is the original post.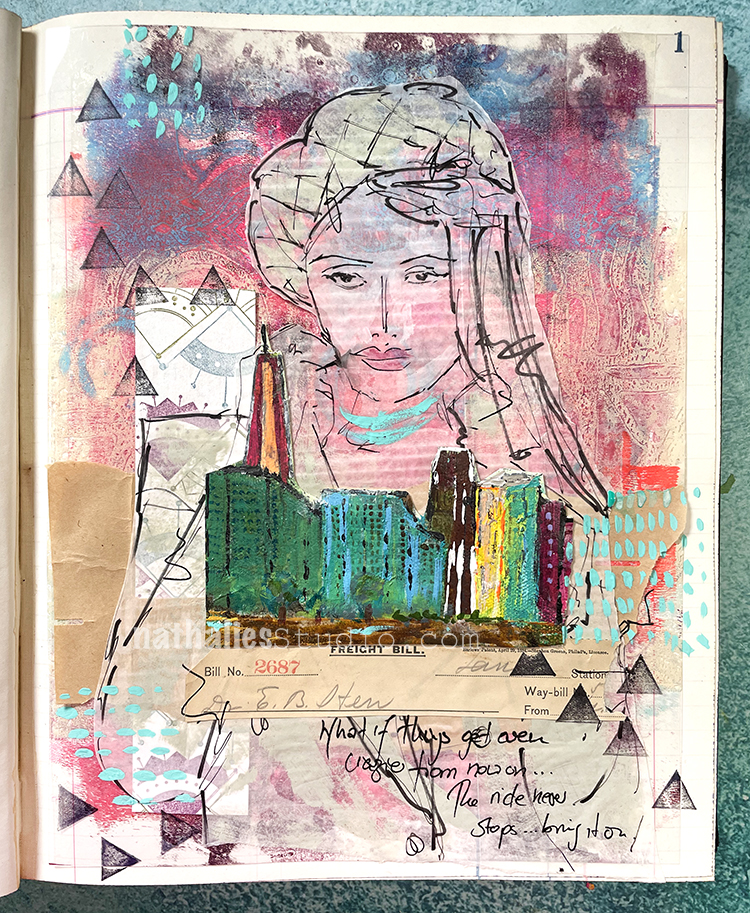 "What if things get even crazier from now on… the ride never stops …bring it on." Life rarely slows down and as usual I was feeling the pressure this year and also trying to remind myself to just hang on, persist, and maybe even enjoy the challenge. And I was also trying to use up some of my collage material in a constructive way lol so this page has a lot in there including a cut up painting on canvas, my Batik and Lily Wallpaper stencils, and my Mini Motifs and one of my Triangle Love rubber stamps. Here's the post.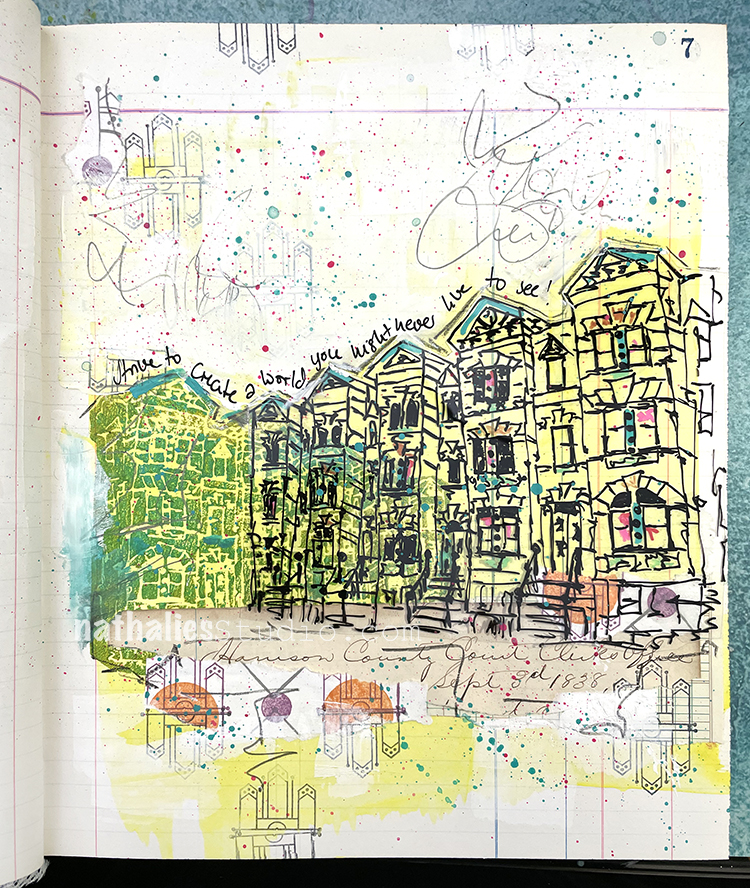 "Strive to create a world you might never live to see!" – Do it Anyway is what I called this page and again an epic adventure in collage as well as using my Row Houses foam stamp and my Mini Motifs rubber stamps along with a variety of media and layering techniques. Check out the post for some of that info.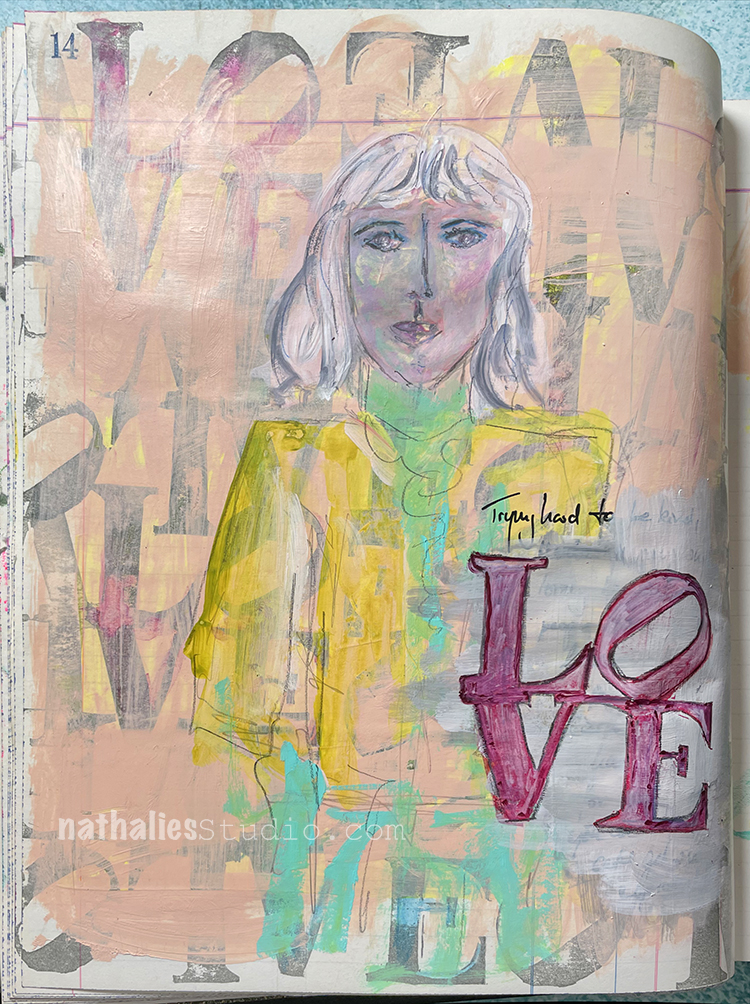 "Trying hard to… Love." was one of those blah day art journal pages that wound up being quite fruitful – it helped me figure out my LOVE foam stamp design which evolved to be a single line. Sometimes even if you don't feel super motivated about anything, puttering around in your art journal can yield positive results. Here is a link to the original post.
I hope you enjoyed this Look Back at some of my art journal pages this year and if you're interested in revisiting some other posts from the past, check them out: A Look Back is a blog series to show you some projects and posts that you may have missed – sometimes going WAY back in the archive. I think it will be fun to revisit a few ideas that we haven't seen for a while. I'm excited to see how a little look back might inspire something new in the future :)
Here are some of the supplies I used in these pages: