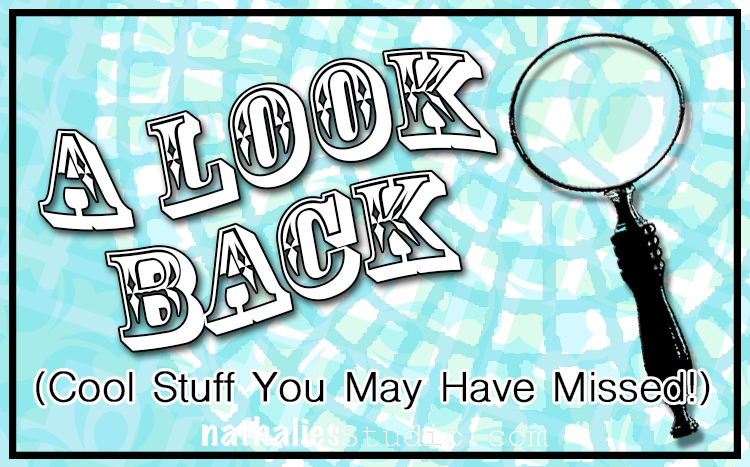 A Look Back – a blog series to show you some projects and posts that you may have missed – sometimes going WAY back in the archive. I think it will be fun to revisit a few ideas that we haven't seen for a while. I'm excited to see how a little look back might inspire something new in the future :)
All month I have been posting Nat's April Patterns videos on Instagram showing how to make patterns with my new rubber stamps. It's been a lot of fun and maybe you are looking for ways to use these patterns, so this time I'm going to show posts and projects using rubber stamps! Here is A Look Back at some ideas. Enjoy!
---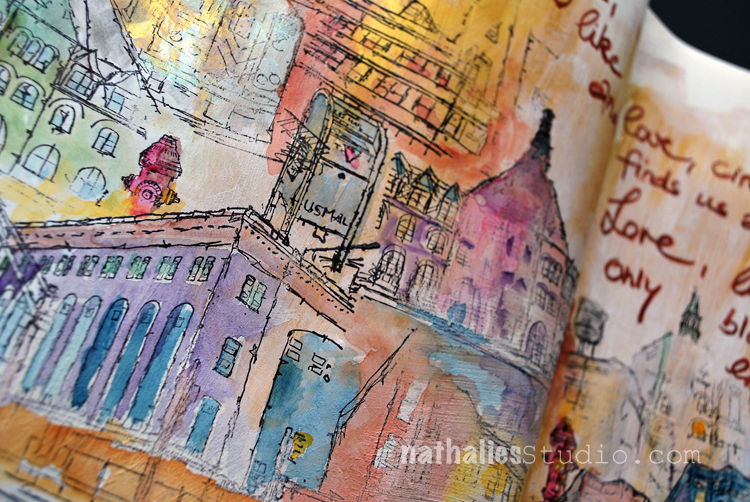 First is an art journal spread from a couple year ago where I used watercolors to color the rubber stamped cityscape I built. I love how easy and quick it can be to add color to stamps in this way. Here I started with my Stroll Through the Hood 1 and 2 stamp sets and then added bright hues that make me happy.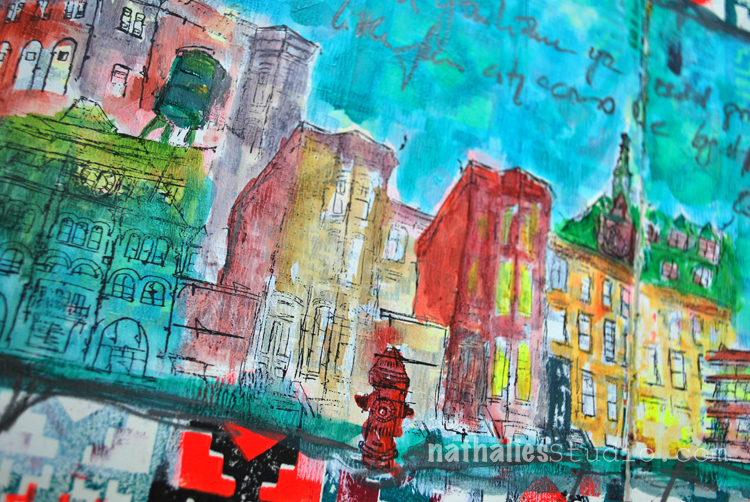 When I was on that same kick of creating neighborhood scenes with rubber stamps from my Stroll Through the Hood 1 and 2 stamp sets, I tried something different in this art journal spread: I colored them using fluid acrylic paints. You have to be a bit more careful to stay in the lines, but it's a much bolder effect.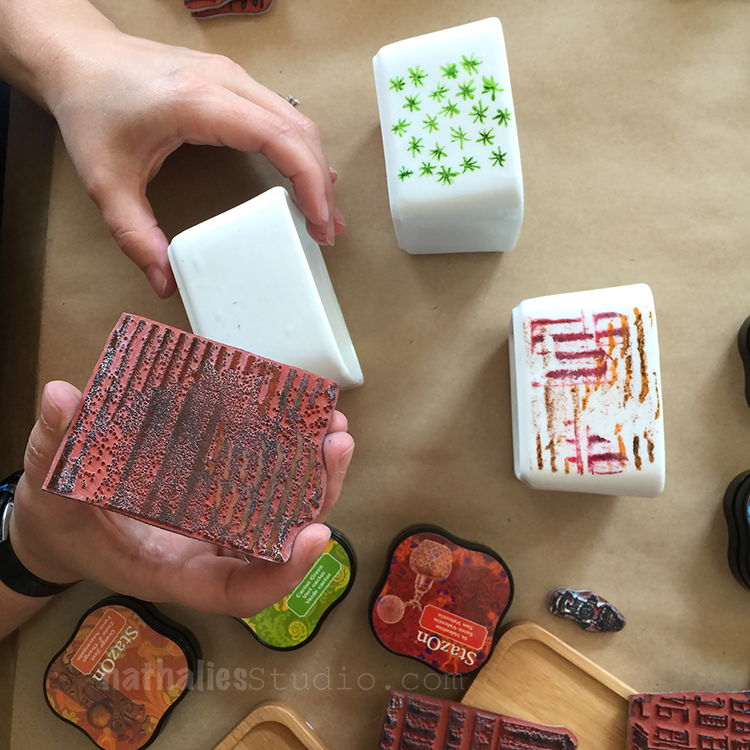 In 2017 Kim and I had this playdate where we used rubber stamps on white ceramic pieces – flower pots and vases. Here she is using stamps from my Cardboard set and from my Embroidery set. You can find a lot of plain white ceramics online that are just begging for a little personality.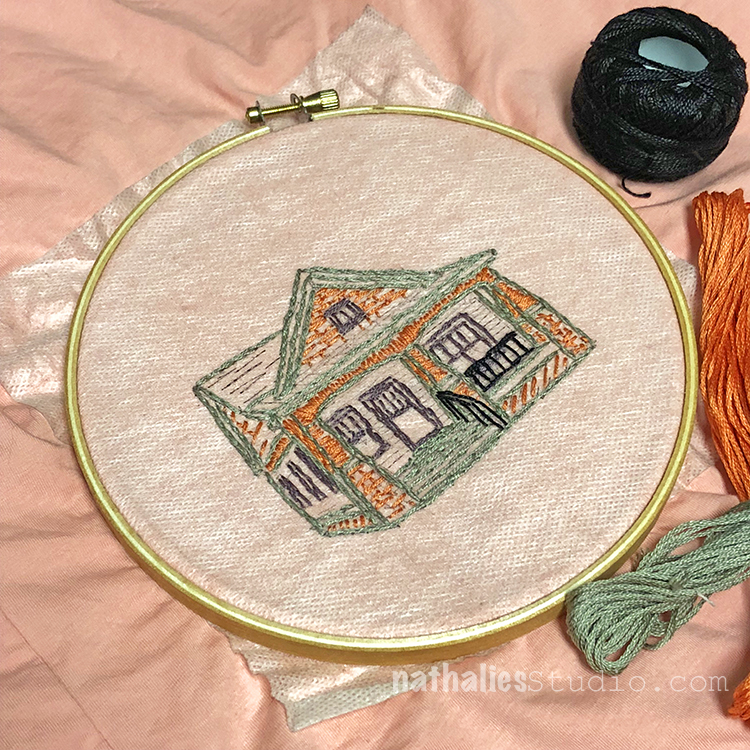 In 2018 Kim and I got together for this playdate to use rubber stamps as a pattern for embroidery. Here is my Craftsman stamp from the Stroll Around the Block set getting an embroidery treatment on a t-shirt. It's fun and relaxing and you get a really unique clothing item in the end.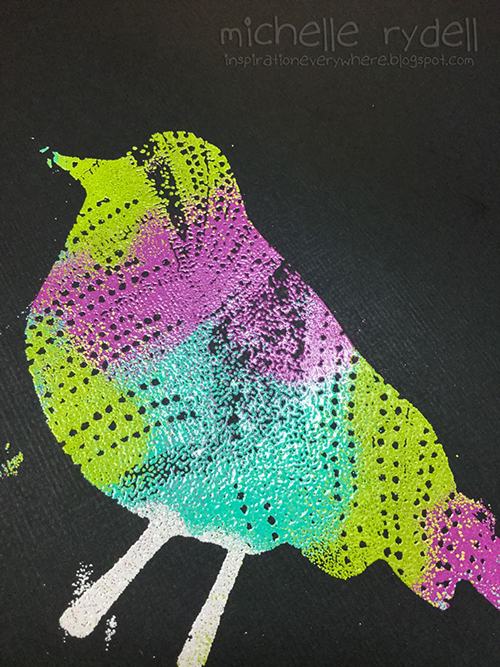 And finally, from back in 2016, Creative Squad alum Michelle Rydell used embossing powder to make this rubber stamped bird really pop on a black background. Using embossing powder with rubber stamps is fun to begin with and once you add a dark background – wow. I love it!
---
I hope you enjoyed A Look Back through my archive and maybe you are inspired to try some of the rubber stamp techniques I shared.
Here are some of the supplies that were used in these pieces: