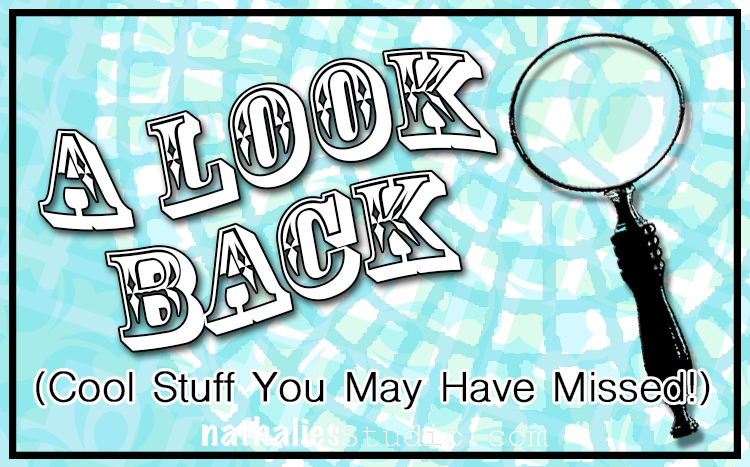 A Look Back – As many of us retreat to our homes again I thought it would be good to look at some projects that can make dining at home feel a bit more festive. This is a collection of posts from the past that can help you think about using stamps and stencils to create an Artful Tabletop. Lets make eating in, even on special occasions, feel like an elevated experience!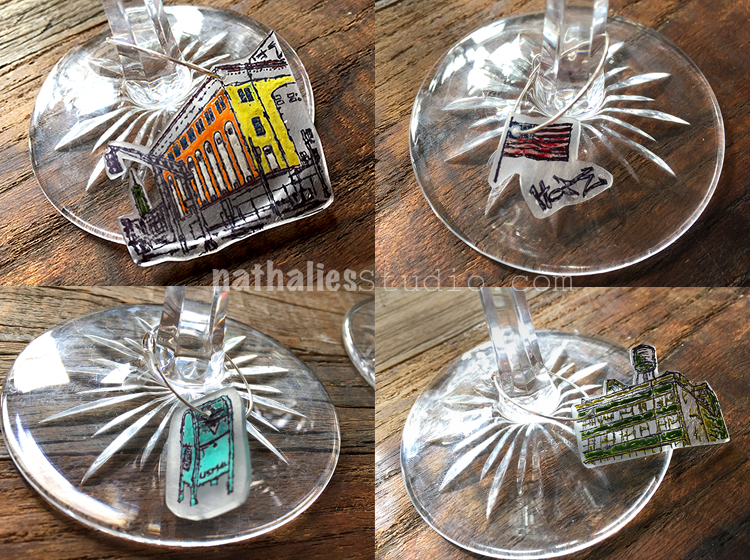 Ok first things first, pour yourself a glass of wine :) Then let's look at this post on making some sweet wine charms with shrink film and my Stroll Through the Hood 1 and 2 stamp sets. You don't want to mix up that glass with anyone else that may be in your household or bubble, right? This is no time to be sharing germs. And hey, even if you aren't interacting with anyone else right now, wine charms are just cute accessories to have regardless and shrink film is ALWAYS fun to play with.
So we have the drinks covered. Let's move on to some napkins…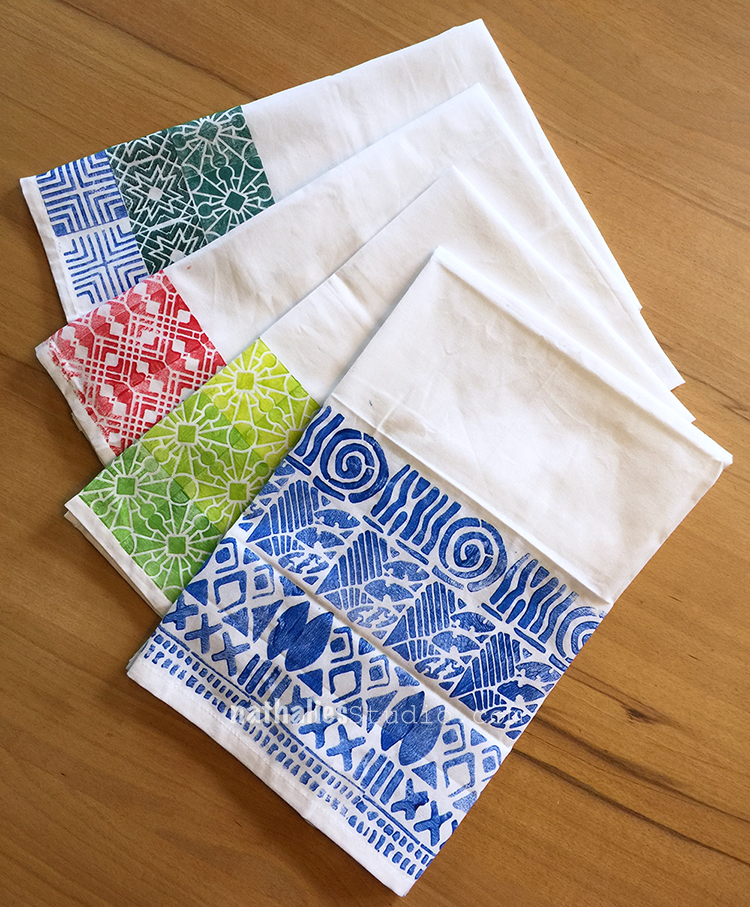 Cloth napkins are the way to go when it comes to making your table look good at home. Not only are they better for the environment, but they just feel nice when you're dabbing that homemade lasagna off your mouth. And, when you follow the tutorial in this post you'll see you can choose the perfect colors to go with your tableware and vibe at home. We used some of my foam stamps for the patterns and fabric paint to make sure they hold up in the laundry. Welcome to Chez Moi.
Next up: let's give those napkins a ring! Nothing says you tried to gussy up a table like napkin rings :)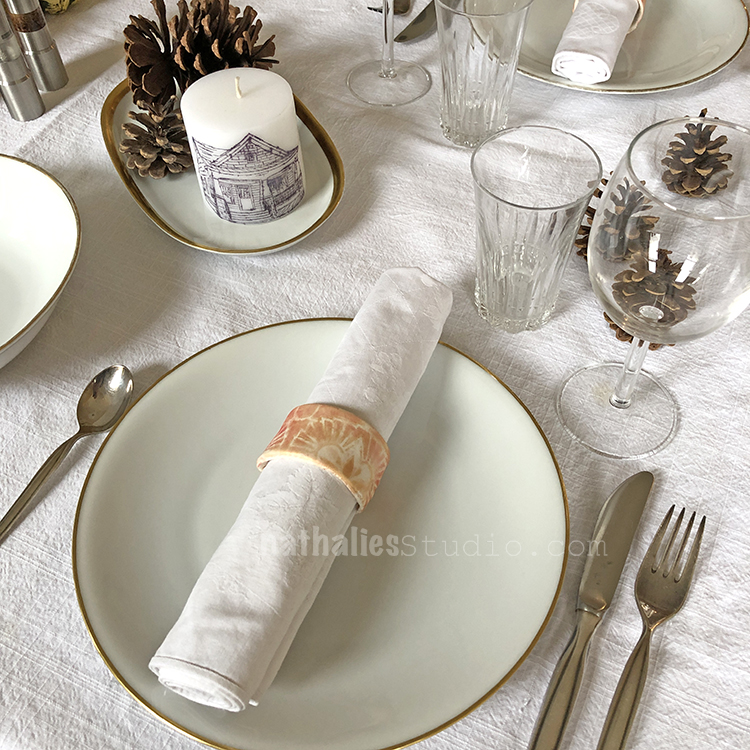 This blog post tutorial shows how to turn paper clay, some of my pattern stencils (like Hamilton seen above), and PanPastels into one-of-a-kind rings for those newly stamped napkins. Give it a try and see if dinner doesn't feel a bit fancier!
No tablescape is complete without a little element of nature – be it real flowers, greenery from your yard, or faux flowers.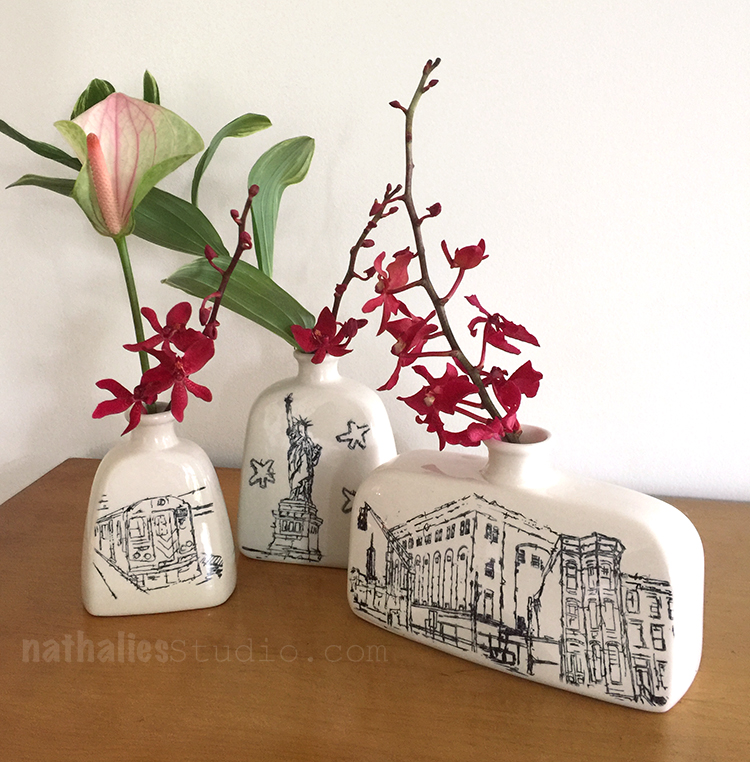 In this blog post we turned plain white ceramic vases into artistic scenes by stamping my Stroll Through the Hood 1 and 2 rubber stamp sets. You'll want to use an ink like StazOn for this project and then you can even color in with paint markers or glass paint markers. If you use the same stamps that you used for your wine charms, you will begin to build a cohesive look for your Artful Tabletop.
Lastly let's talk about lighting.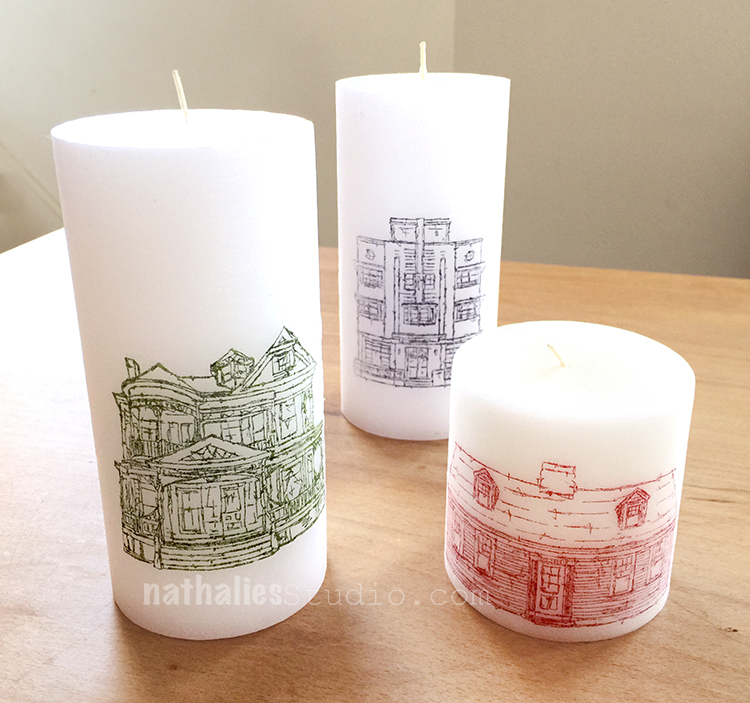 To set the mood on any elegant table, candlelight is a must. Everyone looks better by candlelight, candlelight feels festive even when it's dark and dreary outside, and I don't know if there is any scientific proof to this but food just tastes better when there are lit candles on a table. Here is an easy tutorial to create candles stamped with my Stroll Around the Block rubber stamps and some tissue paper.
There you go – 5 projects to get you excited about dining at home and making your Artful Tabletop something to admire and enjoy. You may even need to start posting pics of your dinner online if you keep this up. Have fun!!!
I hope you enjoyed this. A Look Back is a blog series to show you some projects and posts that you may have missed – sometimes going WAY back in the archive. I think it will be fun to revisit a few ideas that we haven't seen for a while. I'm excited to see how a little look back might inspire something new in the future :)
Here are some of the supplies I used in these projects: