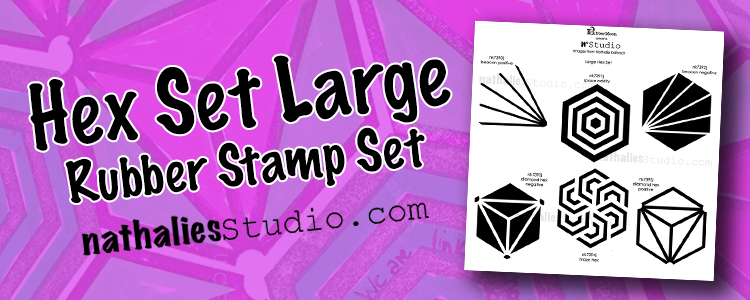 Calling all Pattern Lovers! One of my favorite ways to experiment with creating patterns is to reach for my Hex Set Large rubber stamp set. Just like a tile floor, all the stamps work together to create a field of yummy pattern goodness. There are too many possibilities to count and let's face it, math isn't why we're here. Trust me: Hex Set is gonna rock your world in terms of pattern making :)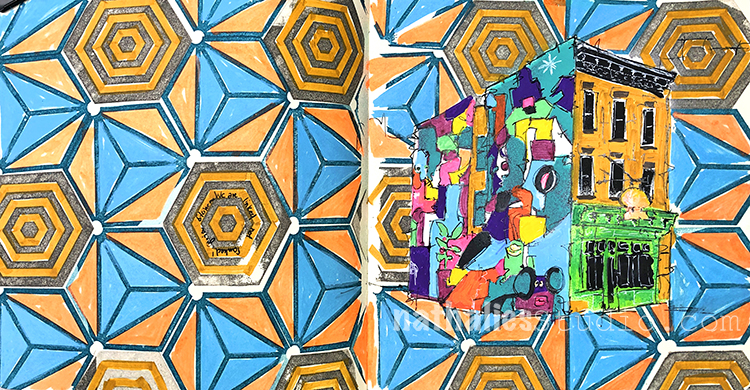 Backgrounds are a breeze and also just really meditative to create. Grab a stamp (or 2 or 3) and a couple different colors of ink and begin building your page. When you have everything covered, go back in and fill with acrylic markers or your current fav media to oomph things up. Collage on top and journal in the nooks and crannies. This art journal page is pretty bold but you could also do something similar in muted or pastel colors for something that blends away a bit more and doesn't take center stage.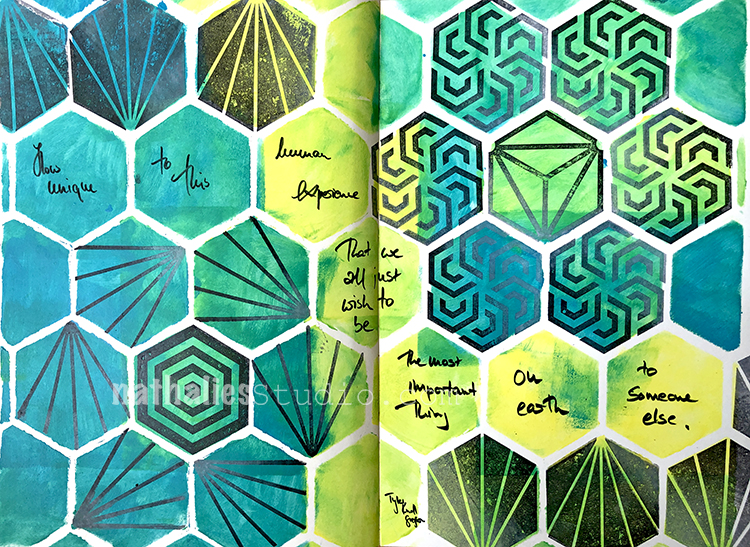 I love playing with the rotation of some of these hex designs. That creates even more possibilities and can give your spread some movement too. In this art journal spread I flipped and rotated the orientation of the Positive and Negative Beacon stamps in the set.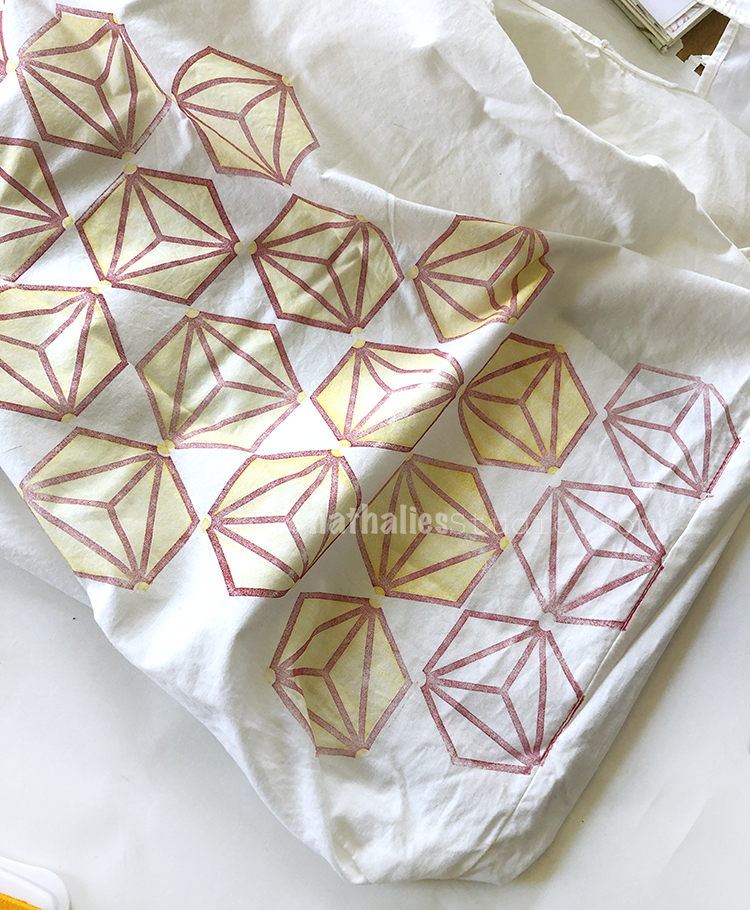 Looking for an easy way to layer color under the stamps while maintaining the hex vibe? Try the Solid Hex Large stamp – it is designed to work with the set and layer. In the project above we used fabric ink and stamped on reusable shopping bags, first the solid in yellow and then one from the set in red.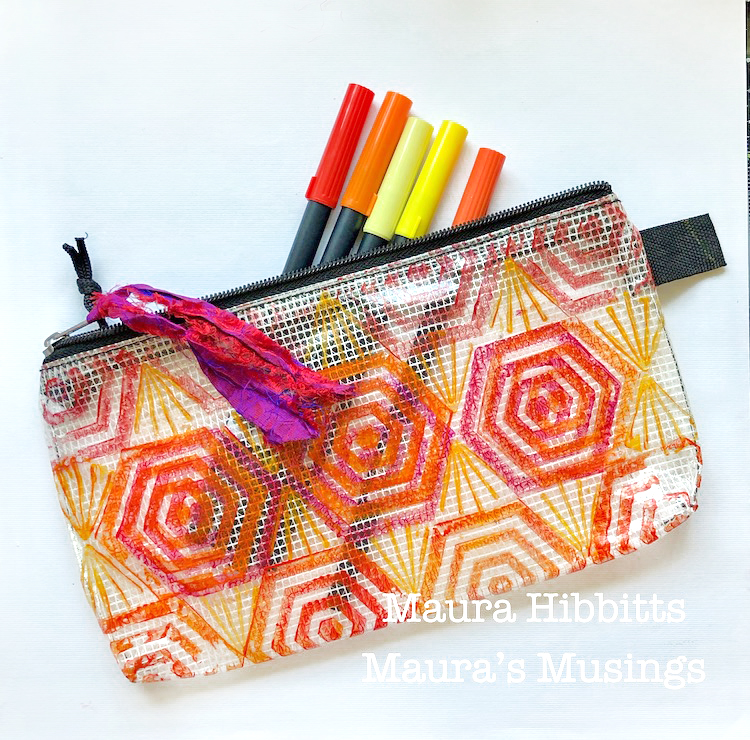 Repeating patterns work really well anywhere where you might find fabric, like here in this Creative Squad project from Maura. She uses the Hex Set Large and Hex Set Small rubber stamps to personalize a pencil pouch. I love the hot colors in this and the simple variation in them. I also love that the triangle created between the hex shapes is the perfect size for that Hex Set Small Beacon stamp.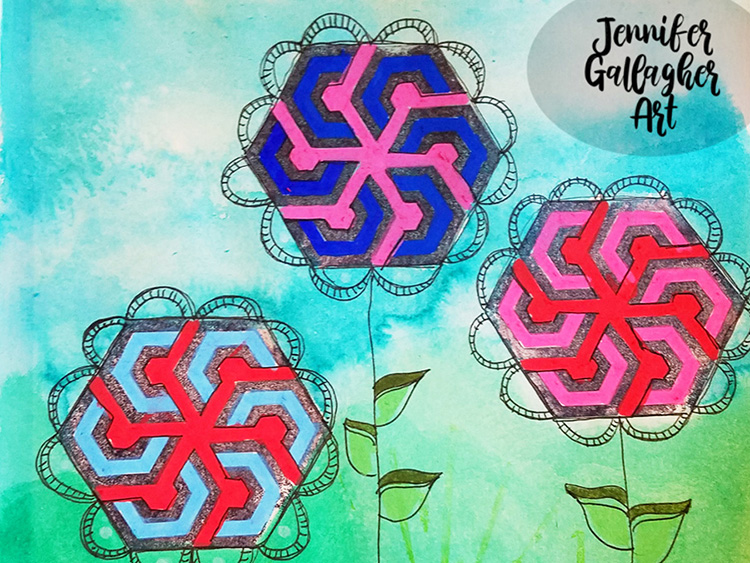 What else do you see in these stamp designs? How about flowers like Creative Squad alum Jennifer does in this post? I always get excited when someone takes one of my stamps and uses it in a new way and this is a great example. Sure it's a hex, but it could be a flower or a wheel or the sun or whatever your imagination sees :)
Have fun with it!
Here are some of the supplies used in these projects: