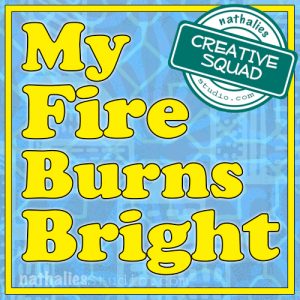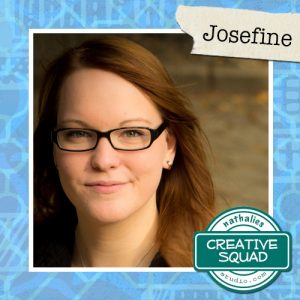 It's Tuesday and time for a post from my Creative Squad.  Today we have a beautiful art journal page from Josefine Fouarge that shows how sometimes you just gotta go with your gut and create! Josefine is using my Midtown Foam Stamp Set, Toledo 9×12 stencil, Art Deco Wallpaper stencil, and a few of my cling rubber stamps along with this month's theme: My Fire Burns Bright – Creativity is a passion that can come from deep within the heart and soul of the maker. Sometimes this fire gets ignited by an event or an influential person in our lives, and other times it can be ignited by a love for a material or just simply the enjoyment that comes from making. What makes your creative fire burn bright?
---
Welcome to the December Creative Squad topic "My fire burns bright".
I don't know why, but my first thought when I read this theme was sunrise. Instead of trying to analyze it, I decided to just go with it and create a scene using the Midtown foam stamps. I stamped three of them onto my art journal page. One of them is actually supposed to be standing up, but I think it works out pretty well laying down.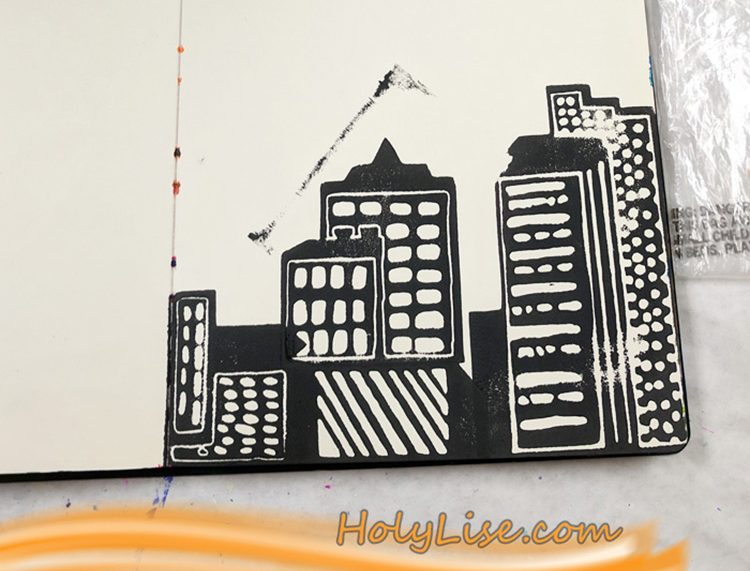 Next up I created some simple masks for the houses to cover them while I was working on the background. I used a yellow paint for the first layer. Then I added some texture using the Art Deco Wallpaper stencil. In order to blend the orange colors in, I used my brush in a dapping motion. I mixed the paint with water, so it was a little easier to blend them as well.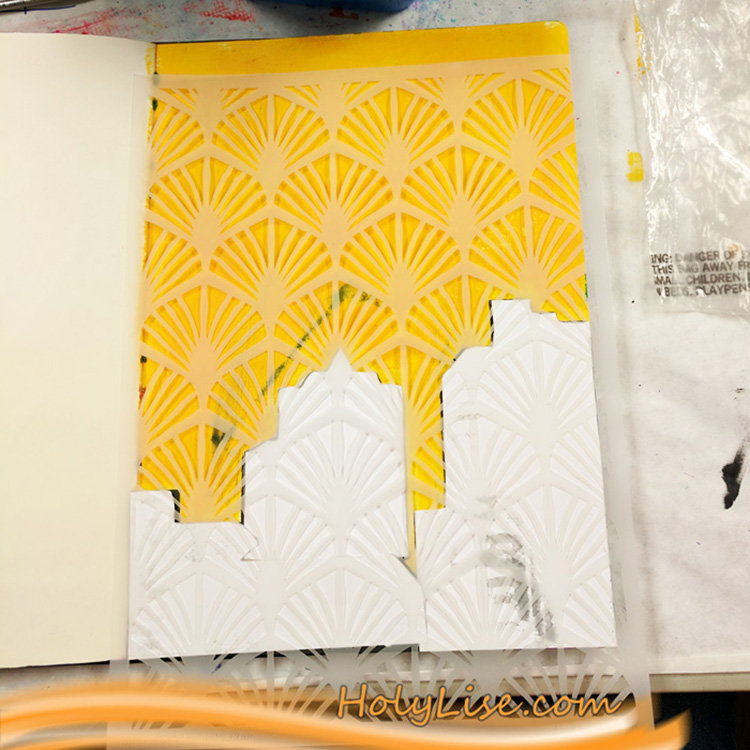 For the night sky I decided to use the Toledo stencil and a few darker shades of red and blue. After I was done, I felt that the background was too bright, so I sprayed gesso over it. That helped blend the two areas together a little more and made the skyline pop again.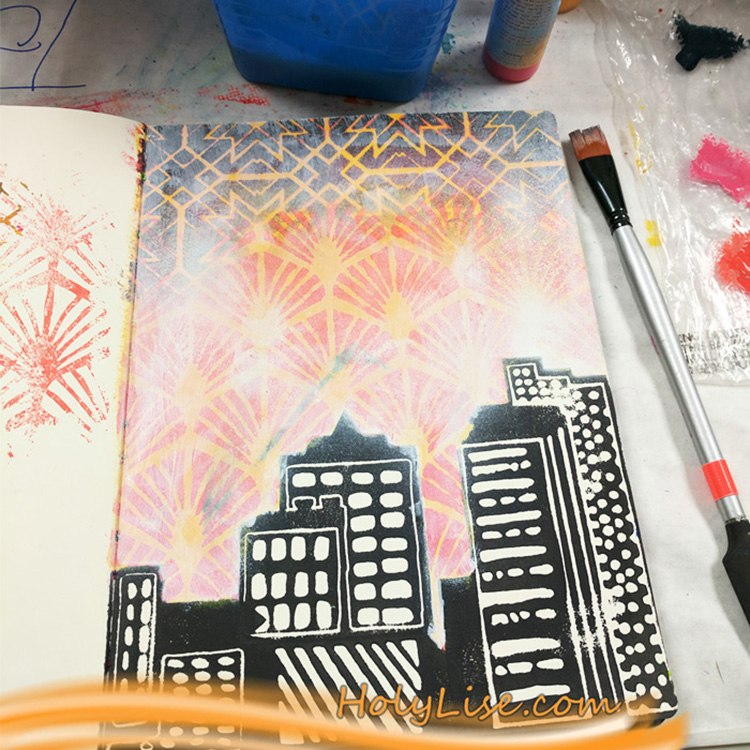 Now on to the finishing touches. I started by stamping Nat's Star Tag stamp and Cross Circle stamp all over the page. I added more dimension by "hiding" them behind the skyline. For that effect, I covered the house with my mask and stamped over it. When I removed the mask only the partially stamped image stayed on the page.
To make the sun even brighter, I outlined the skyline with two different shades of yellow using my Liquitex ink pens and blended the ink out with my finger. My scene was all set, it just missed a little extra – the U.S flag stamp on top of one of the skyscrapers.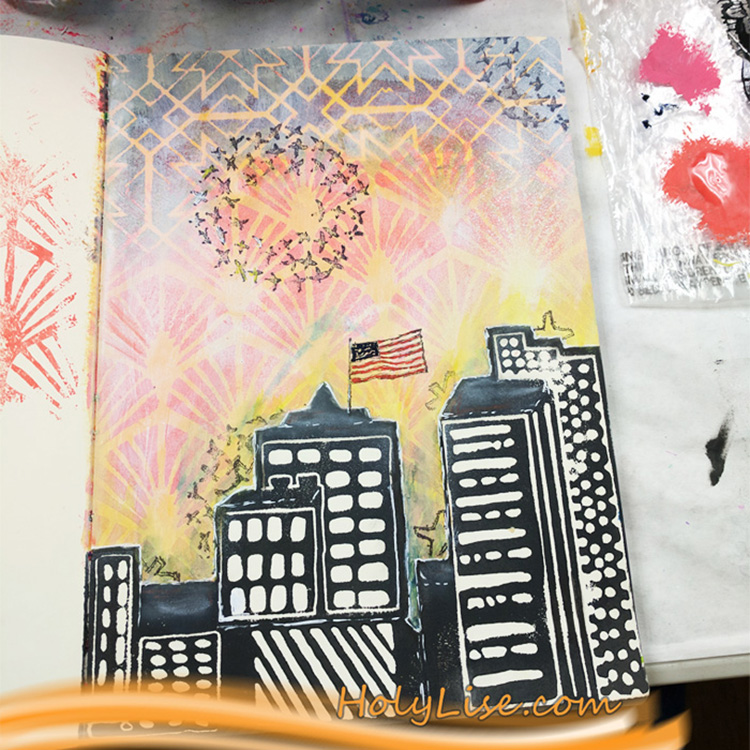 At the end the page needed a frame and a sentiment. I started with adhering the "hello sunshine" acetate piece to the middle of the page. Then I drew in a scribbled border and some random text.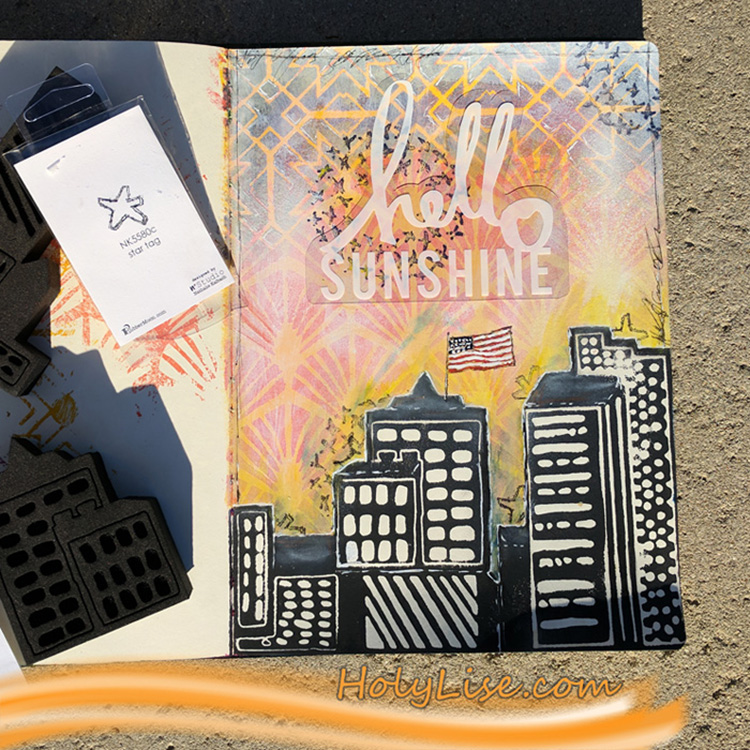 The fires are now burning bright on this page, introducing a new day for whomever lives in that city J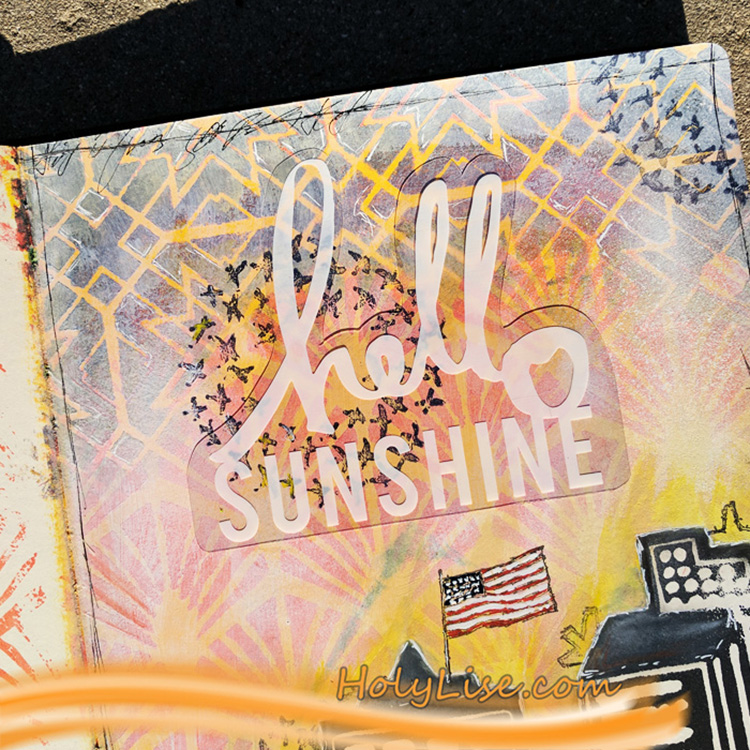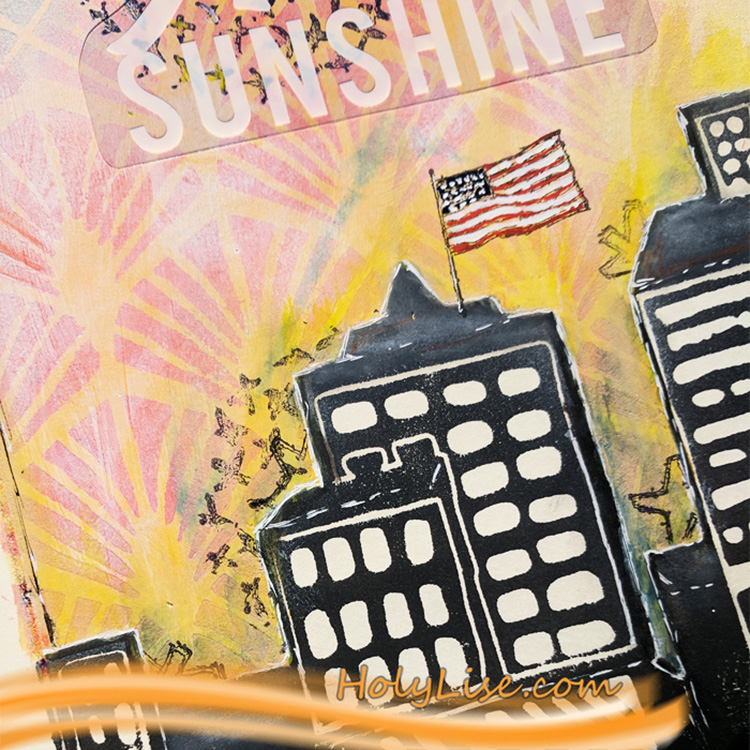 ---
Thank you Josefine! In addition to her art journal, Josefine used the following (some are affiliate links):
Play along with us too: I love to see how you interpret our monthly themes. Email me how you used my stencils and stamps with the theme and email me an image – I would love to share your projects in my next  "n*Spiration From Around the Globe".
SaveSave