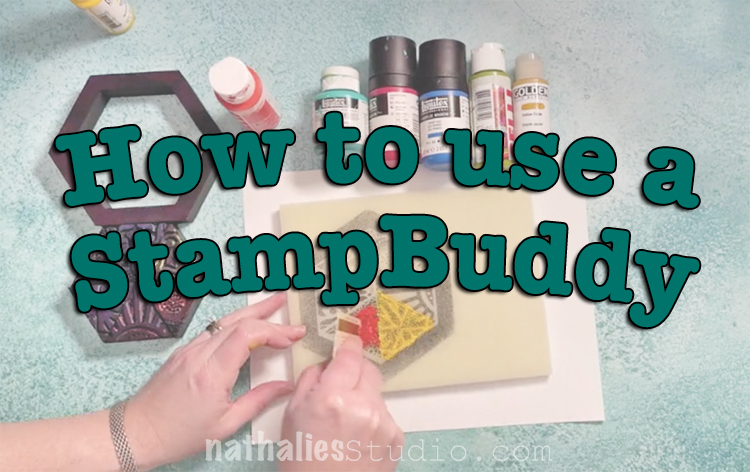 I want to share with you one of my favorite tools to use with foam stamps – a StampBuddy! It's a nice soft nappy foam surface that you can use with paint media so that it becomes an ink pad for your foam stamps. This is my go-to technique when I want to do a lot of repeat stamping for say making a repeating pattern, background, gift wrap, and such. If I know I want to stamp the same color over and over in an efficient and clean way, I use a StampBuddy.
A Stampbuddy holds your paint media, keeping an even amount ready to go for your stamping. I generally apply paint to it using a paintbrush or an old gift card/key card, spreading it around in the area I need. You can get a good overview of my process in this blog post where I use my Versailles Positive Negative set and a few colors of acrylic paint for a colorful pattern. Check out the post here.
See a StampBuddy in action – here's a recent video I made for the Beyond the Paper workshop that shows how you can use a StampBuddy for complex patterns with multiple colors. In the video I am using the Triple Play stamp set.
In the video, you see a trick that I use often – stamping onto the StampBuddy with an archival ink to have a guide. This helps me use multiple colors at the same time and it helps with registration. You can see me doing it in this video as well:
Of course you don't have to do this. Creative Squad alum Michelle Rydell shows us in this post how she stamps the Versailles set with excellent results:
Using one color is a snap too – it helps make crisp, efficient impressions. In this post Creative Squad Alum Emilie Murphy uses her StampBuddy to stamp my Valley Road and Buenos Aires Border stamps with black paint.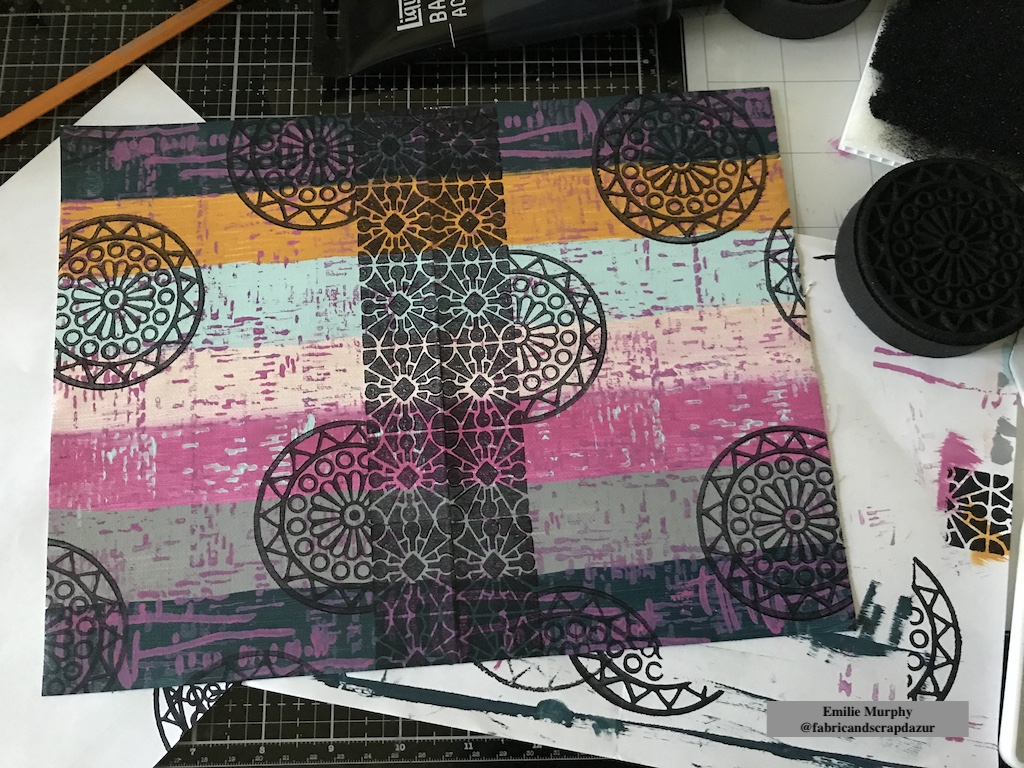 Maybe fabric paint and sewing projects are your jam? I'm a fan too and I recommend taking some pointers from Creative Squad alum Marsha Valk in this post – she uses a StampBuddy with my Mid Century Squared and Groovy foam stamps, along with acrylic paint and fabric medium. After stamping on her fabric, she creates a really cool tote bag.
However you use your StampBuddy and Foam Stamps, here are a couple tips:
The StampBuddy will hold a lot of paint, so use it only if you have time to actually use it up in one session or when you want to do the different color method.
You can store the StampBuddy with paint in a ziploc bag for a day or two if you want to continue stamping the next day but if it is not a lot of paint in there, it will dry into the StampBuddy and then you cannot use it anymore- be careful
I used the paint up by stamping a sheet of gift wrapping paper – boom – one sheet down for the next presents.
Clean the StampBuddy when you are done with your creative time, wash it out with water until the water is clear. The stamped archival ink impression will remain on your StampBuddy. Do not let paint dry on the StampBuddy
Clean your Foam Stamp – I know there are different approaches- I do not clean it super crazy scrubby, but I want most of the acrylic paint off. For me this is a foam stamp and it should remain cushiony as this is what creates this kind of impression and it also lets me use other paint media than just acrylic paint on it.
Only use a small amount of paint with your StampBuddy – you will be surprised how far it will get you and it also prevents paint from seeping into the creases of your stamps- which a) wastes paint, b) makes it harder to clean up your stamp, and c) gives less nice stamped images.
I hope this has helped you see how you can use a StampBuddy the next time you get your ArtFoamies out for some fun.
Here are some of the supplies used in this post: