It was such a great and fun day teaching my Acrylics Demystified Workshop for The Ink Pad in New York City. As with most of the bigger group workshops it took place at the Westbeth Community Room which is the perfect location for those kind of workshops- huge space, lot's of light, outdoor space and a little kitchen included.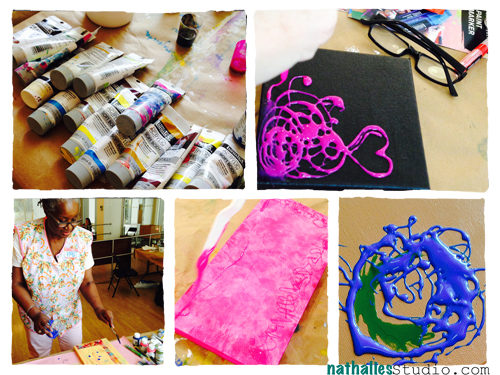 We talked a lot about Liquitex Acrylic Paints and Acrylic Inks and Markers. About art supply labeling and the main groups in acrylics.  And then started playful by pooling, puddling and stringing with Liquitex Pouring Medium and String Gel. I showed how to make acrylic skins and demonstrated several possibilities of using them. Perfect way to get over the White Canvas Horror :)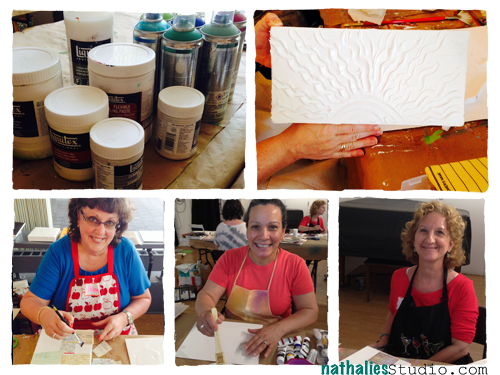 Then we sculptured our way up using Liquitex Flexible Modeling Paste -look at Karen's awesome canvas on the top right and then we explored the possibilities of making your own glazes and playing with layers, translucency and colors in collages.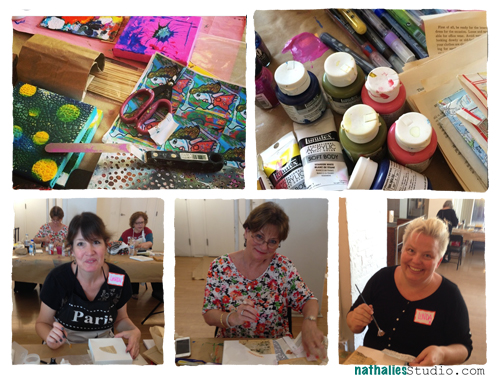 We used Ceramic Stucco, Super Heavy Gesso, Natural Sand played with different Transfer Techniques and it was fun to see how all these little techniques and informations sparked a load of creative ideas for future work and exploration in the heads of my wonderful smiling students.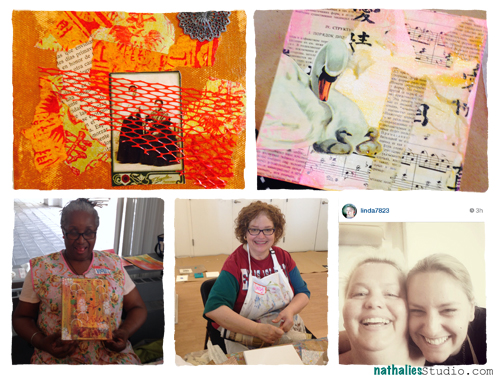 Lastly we did a bit spray painting with Liquitex Spray Paints in the end to cool down outside  .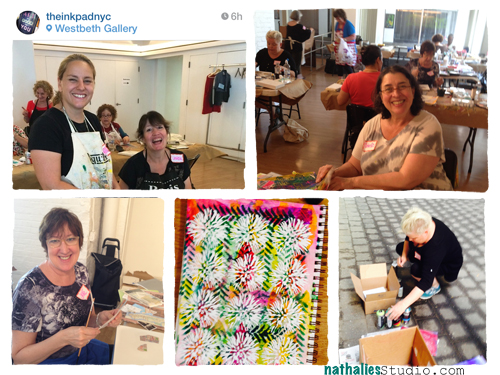 To finish the workshop off I asked everyone what their favorite Acrylic was and which techniques. I was happy to hear that about everything was mentioned at least once with some clear winners on the Liquitex String Gel, Liquitex Super Heavy Gesso and the Liquitex Gel Medium & Varnish and for the techniques Glazing, Texture Creating and Painting with Newspapers 
thank you girls for such an amazing and fun workshop day . An extra thank you to Linda Brun from Norway who was on vacation in NYC and when she heard I was giving a class signed up. This really touched me especially since she has taken a couple workshops with me in Paris, Belgium and Norway already…so she totally knew what she got herself into ;) Thank you for spending your vacation day with me!!!
I wish you a gorgeous and creative day
Nat