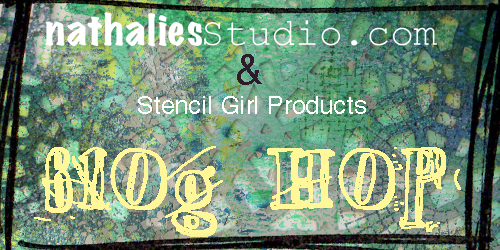 Welcome to my second Stencil  Blog Hop! Again I invited four wonderful artist friends to hop along with me and play with my StencilGirl Products Circuit Stencil which is a 9 x 12 Stencil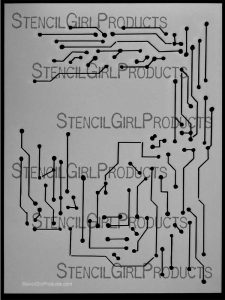 And I give away one Circuit Stencil!Comment her for an entry into this giveaway! And if you also comment on all the other listed blogs I will  give you an entry into the giveaway for each blog you comment on–how cool is that! You have five chances to win it. Leave a comment on each of the listed blogs and on my blog  and let us know how you like the projects and I will pick randomly one lucky winner. You have time to comment till August 6, 2013 – midnight EST.
Edited August 8, 2013: The winner is Dorothy McCarthy – Congratulations. Dorothy please email me with your postal address so I can get this stencil sent out to you  , Nat
Edited September 23, 2013: Although I tried hard to get the winner's addy – I never heard back. I will do a new drawing from a different post soon as I am sure someone else will be happy to receive the stencil :)
Here are my friends joining me:
Stephanie Schütze who joined me last week already and did some amazing cards and a layout- I love her style!
Birgit Koopsen a close friend of mine, not only do I love teaching together with her…she is also super duper colorful in her work!
Marjie Kemper, I met Marjie in NYC a while back when I was teaching workshops- and she is doing amazing things on her blog – check her out!
Samie Harding  – is a huge art journaler who also does a lot of fun videos on her art journaling.
I designed the Circuit Stencil because I do love technical signs in my work -I love when something is whimsy and then you can put some straight technical background to it. I also wanted to have a stencil which you can use as a background stencil but also to frame your work.
Check out some samples here: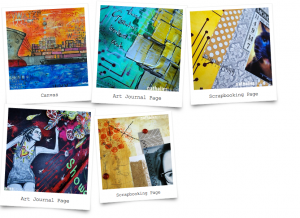 Here is what I created for today: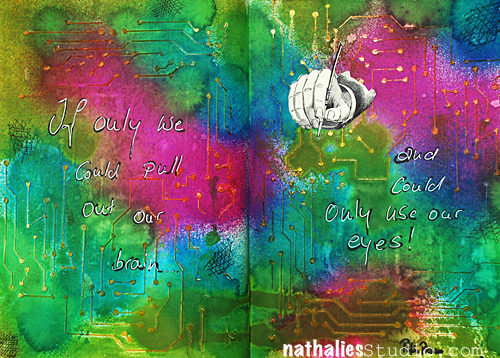 It is a very simple yet colorful sparkling art journaling page :) I used Wendy Vecchi's Golden Embossing Paste over the Stencil- simply scrape it over with an old credit card or hotel key card.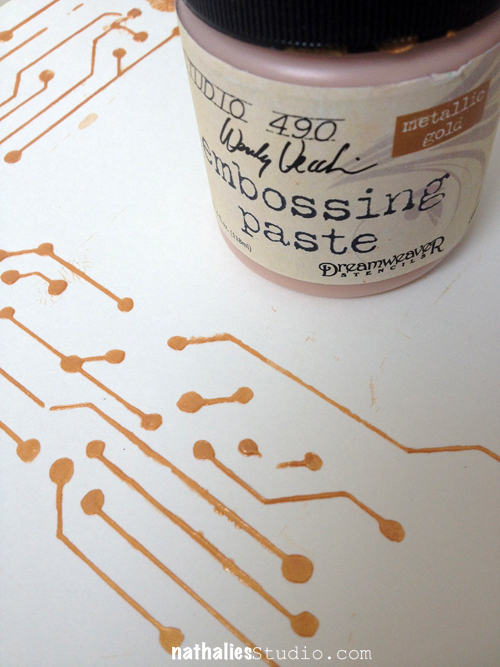 I let it dry and then used three different colors of Dylusion Sprays over it.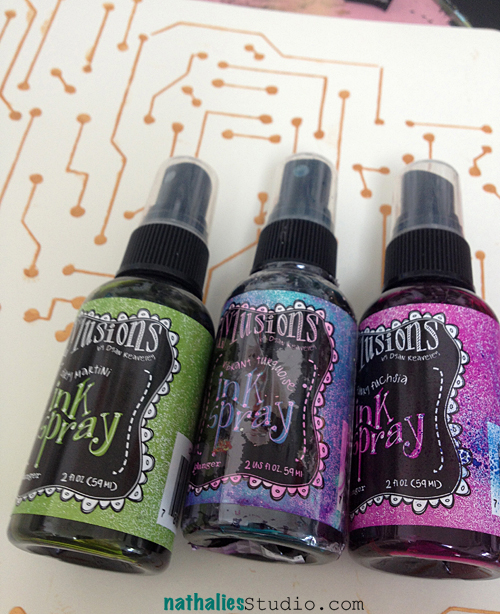 At some areas I dabbed the color off while still wet – so it got sparkly gold again, at some areas I just let the color sit and dry on top of the circuit pattern.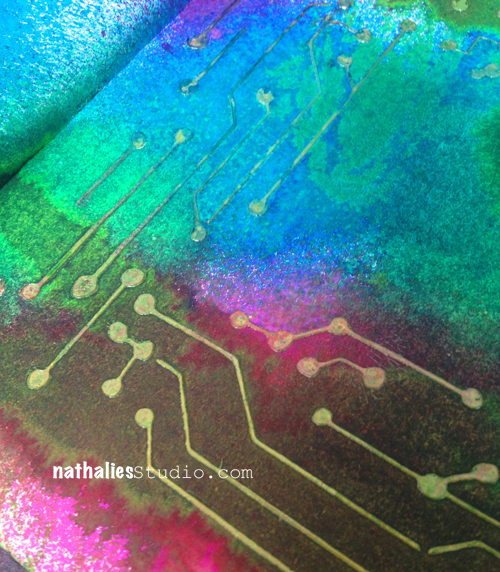 Next I used a water mister and laid out the Circuit Stencil over areas that weren't covered yet with the pattern, spritzed over the stencil and used a rag to rub through the stencil. As the Dylusions get reactivated by water, you take off some of the colors and get a little Circuit Ghost Effect :)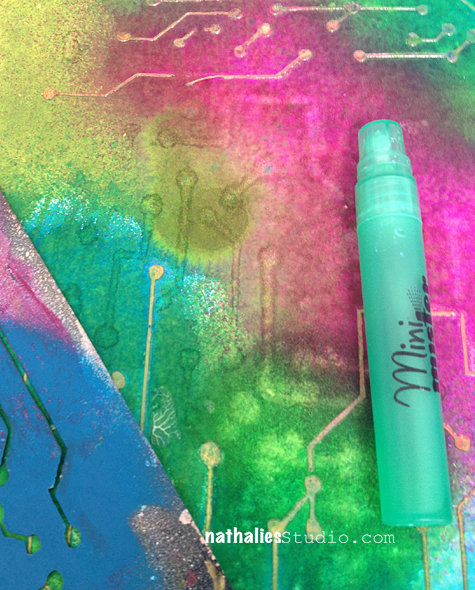 Voila- a nice background that you can add photos, journaling, stamping etc. I simply used a little quote I liked, by Pablo Picasso – I love filling my art journal with quotes.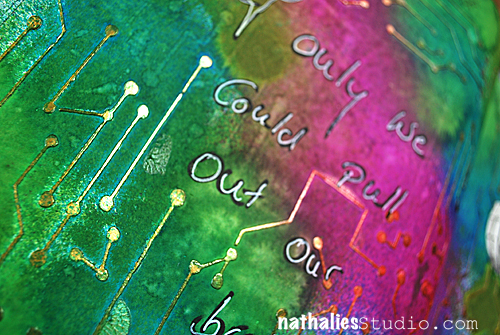 Here are the supplies I used:

Now hop on over to my friends and check what they did
Have Fun
Nat