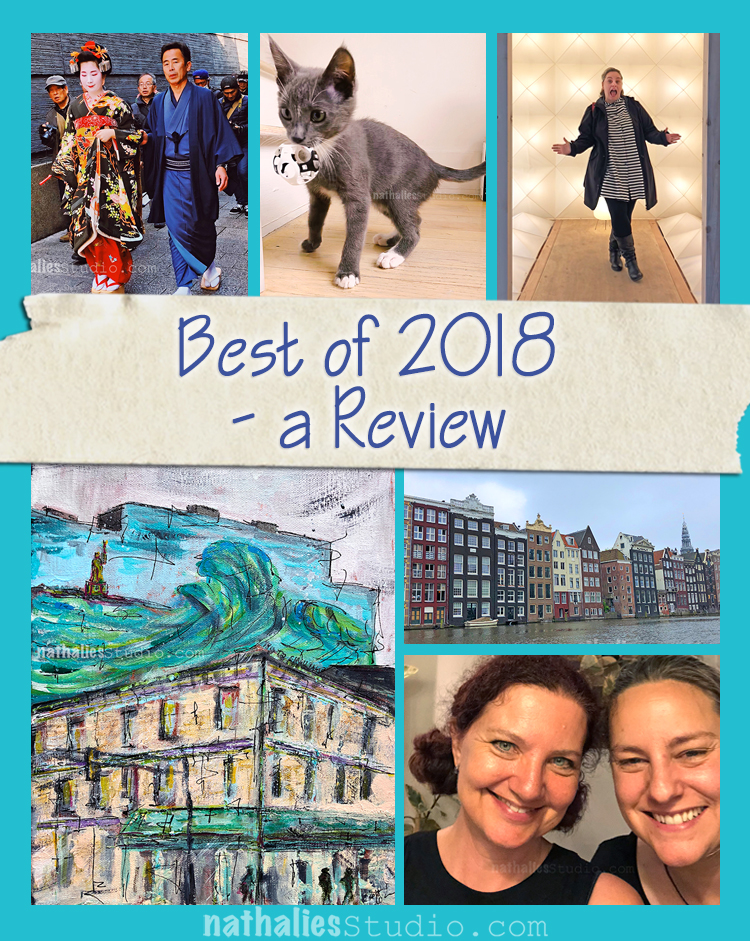 What a Year this has been! 2018 was a memory creating year for sure.
We added a new addition to our family- Bobby Pretzel! I came back from a workshop in San Jose with a Pretzel in my hands – LOL
He is not as tiny anymore but he still loves fetching the ball and we love him very much! (Niles our 18 1/2 year old cat might not love him as much though ;) )
2018 was also the year of some really cool visitors – and if you visited us and you don't see yourself here- trust me – you are still cool and loved !
My friend Thomas stayed for a while and I loved having him as we share so many interests – it was an art, book, food, fun, chat filled visit.
I loved seeing my sweet Birgit again
and being part of my friend's eloping wedding in NYC- what a wonderful sweet day in NYC.
2018 was also a crazy and gorgeous travel year – the highlight def. being our trip to Japan – Tokyo
and Kyoto with some inspiration for a later stamp
and Nara. Oh man- I so want to go back to Japan. It was one of the best trips ever!
But also two trips to Germany -visiting friends and family, teaching a workshop at the Baltic Sea and closing a part of our life as we sold our apartment in Hamburg.
A short trip to The Netherlands – Amsterdam – meeting friends and visiting old favorite spots. Amsterdam is actually the city where my husband and I got together :)
And last a short stint to Coventry the UK with my friend  Julie and a visit to the beautiful New Cathedral.
I painted a bit in 2018 – not as much as I wished I had but these are my two favorite paintings from 2018
And "Behind the Museum" (sold)
It was also the year of some fun and special Art Strolls –
Hakone- Open Air Museum in Japan – can I come back soon?
An Art Stroll with friends at the Noguchi Museum
And a birthday Art Stroll to the Met Cloisters.
It was year filled with tons of wonderful memories! It is so good to look back at a year and get a grasp of all the fun and good things that happened – it puts things in a different perspective and shows me how blessed I was this year. I hope your year was a good year as well and you have wonderful memories that make you look back at 2018 with a smile. What made you smile this year?